SmartMoney Calls DePauw a Selective, "Admissions Bargain"
October 30, 2002
October 30, 2002, Greencastle, Ind. - "Admission to selective schools gets tougher each year," writes Sarah Breckenbridge in the November issue of SmartMoneymagazine. She adds that "there are still many private midwestern colleges that St. Louis college counselor Jane Schoenfeld refers to as 'admissions bargains'-- schools such as Kenyon College, Grinnell College, DePauw University and Macalester College." Schoenfeld says, "They're underapplied to, considering their reputation and quality. They just don't get the publicity nationwide that they would if they were on the East or West Coast."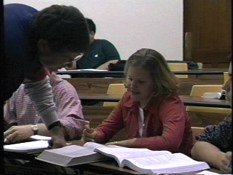 The November issue of the magazine, which features lengthy coverage of "Your Kids' Education," was posted in sections at SmartMoney.com today. You can read the piece with the DePauw mention here.
A complete account of the magazine's coverage can be found at the online version of the Wall Street Journal, accessible by clicking here (a subscription is required).
Back