Noted Author Richard Peck '56 Collects More Awards; Profiled in Chicago Tribune Magazine
October 31, 2002
October 31, 2002, Greencastle, Ind. - Richard Peck, a 1956 DePauw University graduate who received a National Humanities Medal earlier this year, and was the 2001 recipient of the Newbery Medal (the top prize for children's literature given by the American Library Association), is being honored again. "Last year's Fair Weather, the story of three farm children whose lives are changed by a visit to the 1893 Chicago World's Fair, has been awarded the first Chicago Tribune Prize for Young Adult Fiction," notes a story in the Tribune's magazine, published October 27. Fair Weather also recently won the annual award for children's literature from the Great Lakes Booksellers Association.
Written by Peter Terzian, assistant book editor for Newsday, the lengthy profile states, "Thirty-one years ago, Peck left a career as a junior high school teacher at the height of the Vietnam War--a time, he says,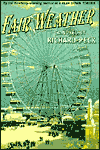 'in which our school systems collapsed, swapping education for politics, and never recovered.' On his last day of work, he went home and wrote his first line of fiction. He says his writing is an extension of teaching. The students 'kicked autobiography out of me . . . They want to know about themselves, not about me.'"
Richard Peck, who has written more than two dozen novels for young adults, grew up in Decatur, Illinois, but has spent his adult life in New York City. Many of his books, however, use Chicago as a backdrop. The award-winning author believes that, in the words of Terzian, "we're in another golden age of young-adult literature." He tells the writer, "Our books are better than books for adults. . . . We can't resort to pornography to mask weak writing.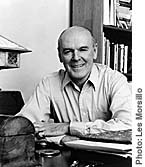 Unlike the filmmakers, we can't throw in a car chase to keep the pacing peppy. And we've got to say it in 200 pages or less. Every novelist should have to say it in 200 pages or less. We can't pad ... and we must keep our eyes on our readers. It's made our books better crafted." You can access the Tribune article by clicking here(a registration is required).
Another story, in the State Journal-Register of Springfield, Ilinois, previews a November 6 speech that Peck will make at the University of Illinois at Springfield. The newspaper notes that "Virtually every publication and association in the field of children's literature has recommended his books... Peck was born in Decatur, attended the University of Exeter in England, graduated from DePauw University and served in the U.S. Army before becoming an English teacher. In 1971, he left his teaching career to begin what has become a long and fruitful writing career."

This fall, Richard Peck published a new work of nonfiction for teachers, parents and librarians, called Invitations to the World. Upon winning the Newbery, Peck said DePauw

[DOWNLOAD AUDIO: "Peck on DePauw" 603KB] "made a writer out of me. It warned me never to show my rough draft to anybody. That helps. I write each of my books six times because I have to, and it's the sixth version my editor sees and nothing before that. I learned that from DePauw professors."
You can read a biography of Peck by clicking here, and access an autobiographical sketch here.
Back