Martin Bernal Keynotes Crimmel Colloquium, November 7 & 8
November 1, 2002

November 1, 2002, Greencastle, Ind. - Martin Bernal, author of the provocative and controversial book Black Athena and professor of government at Cornell University, will provide the keynote address of the Hays and Margaret Crimmel Colloquium, "Black Studies and Classical Studies as Models of Liberal Education," at DePauw University, to take place Thursday and Friday, November 7 & 8. The events are free and open to the public.
Dr. Bernal's speech will open the Colloquium, Thursday, November 7 at 7:30 p.m. In 1987's Black Athena, Bernal refuted the arguments of those who claim that the Western Civilization was born in Greece and made the case that much of what people typically associate with the classical cultures of Greece and Rome instead originated in Africa. His speech, entitled "Afrocentrism and the Aryan Model: Feel-Good or Objective Scholarship" will take place in the ballroom of the Memorial Student Union Building.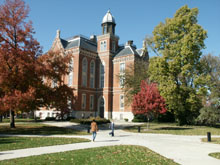 The colloquium continues November 8 at 4 p.m. in the UB ballroom with a panel on Black Studies and Classical Studies as models of liberal education. The panelists are Dr. Diane Harris-Cline, Visiting Associate Professor in the Department of Classical and Semitic Languages and Literatures at The George Washington University; Dr. Ibrahim Sundiata, Professor of History and African and Afro-American Studies at Brandeis University and Resident Fellow, W. E. B. Du Bois Institute, Harvard University; Yvonne Williams, Hampton and Esther Boswell Distinguished Professor of Black Studies at DePauw University; and Dr. Shawn O'Bryhim, Associate Professor of Classical Studies at DePauw.
For more information on the Crimmel Colloquium, including a complete schedule, click here.
Back