Monon Bell is a Sell-Out; 45 Cities Will Host Telecast Parties on Game Day
November 4, 2002

[DOWNLOAD VIDEO: "See The Ballad of the Monon Bell" 9364KB]
[DOWNLOAD AUDIO: "Hear The Ballad of the Monon Bell" 2900KB]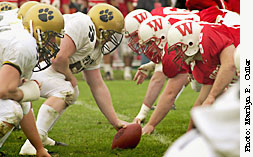 November 4, 2002, Greencastle, Ind. - A week after going on sale to the public, DePauw University's allotment of tickets for the 2002 Monon Bell game, to be played at Crawfordsville on November 16, sold out this morning. But fans who wish to cheer on the Tigers in their annual, storied battle with Wabash College can still view the game at one of 45 alumni telecast parties being organized around the USA (click here for details).

[DOWNLOAD VIDEO: "1990 Monon Memory" 3182KB] The contest kicks off at 1 p.m. (eastern time) at Little Giant Stadium in Crawfordsville, and promises to be another memorable Monon Bell, as Wabash is undefeated at 8-0 and has won 15 straight games, while DePauw, at 6-2, has had a strong season, with its losses coming against two of Division III's top teams (Trinity and Hanover).

[DOWNLOAD VIDEO: "1955 Monon Memory" 1772KB] If you can't make it to one of the alumni parties, but have access to a large-dish home satellite system (the game cannot be accessed on small-dish systems), you can pull in the game on C-band at Galaxy 3C, transponder 7, or on KU-band at SBS-6, transponder 5.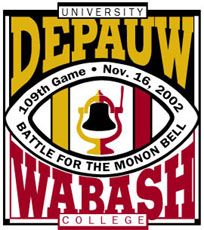 The game also can be picked up over-the-air in Indianapolis via PBS affiliate WFYI/Channel 20, and in Merrillville on WYIN/Channel 56. This year's telecast will feature "Monon Memories," short vignettes that utilize seldom seen archival footage of some of the rivalry's greatest battles, dating from 1940 through last fall's buzzer-beating thriller ("Monon Memories" are scattered throughout this story for your viewing pleasure). The clips will be seen during time-outs and other breaks in the action throughout the telecast.

[DOWNLOAD VIDEO: "1973 Monon Memory" 1833KB] Several will also be included as bonus material on the 2002 Monon Bell DVD, which you can pre-order at a special price by clicking here(the 2001 DVD is also still available).

[DOWNLOAD VIDEO: "1942 Monon Memory" 1967KB] DePauw enters this year's Bell bash leading the overall series 50-49-9. To learn more about the 2002 DePauw football Tigers, click here. You can access DePauw.edu's extensive Monon Bell area here.
Back