DePauw University Band Celebrates Release of Fourth CD, Wind Journey
November 7, 2002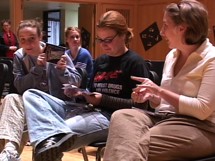 November 7, 2002, Greencastle, Ind. -
[DOWNLOAD AUDIO: "The Star Spangled Banner" 1100KB] There are few universities in America that regularly produce compact discs of their work and distribute them worldwide. The DePauw University Band, under the direction of Craig Paré, today celebrated the release of its fourth CD, Wind Journey. The new recording remembers a difficult day in American history, but also adds celebratory music to the recognized canon.
[DOWNLOAD VIDEO: "Band Rehearsal" 682KB] Dr. Paré was inspired to pick the theme, in part, by a painting by Assistant Professor of Art Barbara Fields Timm, which became the cover art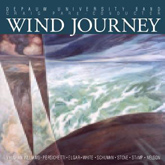 for the CD. "This one -- this just struck me, before I even knew what the title was," Paré said.
The director adds, "A very interesting work on this CD is an arrangement of the Star Spangled Banner by Jack Stamp, a well known band composer, that was written as a response to September 11th." Paré says the CD is not designed to be solemn, and includes several pieces that are upbeat and several that have never been recorded before. One such piece has a distinct DePauw connection.
[DOWNLOAD AUDIO: "Concertino Clip" 545KB]Concertino for Timpani, Winds and Percussion was composed by Donald White, former Dean of the DePauw University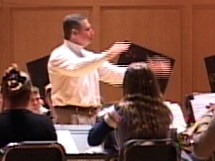 School of Music. Paré plays the timpani on the recording of the piece.
Before this afternoon, when copies of the CD arrived on campus, only Paré and sound technicians from Tel-Arc Studios in California had heard the final mastering of the tracks, which were recorded in Kresge Auditorium in DePauw's Performing Arts Center, April 26-28, 2002. Like the celebrations held for the previous three releases, current and former band members, the current Dean of the School of Music, Amy Lynn Barber (seen addressing the band members) and other DePauw faculty members, and patrons of the performing arts at DePauw gathered in the auditorium to enjoy the final version of Wind Journey for the first time. "It's mainly just a chance for the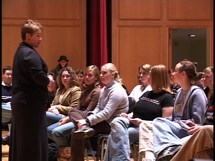 band to kind of revel in this year-long process and finally hear what the fruits of their labors were," Paré said.
[DOWNLOAD AUDIO: "Flourish for Wind Band" 434KB] With four recordings under his belt, the conductor says he and his students continue to stretch and grow. "I'm learning more about the process and how to prepare the group," Paré states.
[DOWNLOAD AUDIO: "Learning Process" 460KB] "We work throughout the whole year -- it's learning about discipline, learning about the process of what a recording involves, it's learning about preparation outside of rehearsal, and it's learning about the rigor of what a recording session is."
The DePauw University Band's first CD, Shadows of Eternity was recorded in April of 1996. Timepieces followed in 1998 with Airs & Dances released in 2000. Paré said that one of his goals with the recording projects is "to put music out there for the profession".

What this means is that each one of the CD's have included at least two pieces of music that had not been recorded much, if at all, before DePauw's band put them on an album.
Most significantly, however, the discs highlight the quality of music that DePauw students produce on a regular basis. "It's important to me that the world -- this is distributed throughout the world, we're finding -- knows the quality, not only of the performance level, but the teaching that goes on at DePauw."
Paré says the discs also help recruit talented prospective students to the School of Music.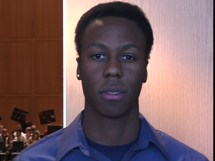 Junior tubist Nick Shawver says one of the things that attracted him to DePauw was the knowledge that he could be involved in a recording project.
[DOWNLOAD VIDEO: "Special Things" 825KB] "I know I'll be able to play it for all of my friends and family, and when they hear it they'll really be happy to know someone who was part of something that special," Shawver noted. "I think it just adds to the aura and the special things that we do with this band and with music at DePauw in general."
[DOWNLOAD VIDEO: "Better and Better" 788KB]
[DOWNLOAD AUDIO: "Better and Better" 362KB] "I believe that each of one the CDs not only gets better because our groups are getting better -- we have fine students here at the school of music, both college of liberal arts students and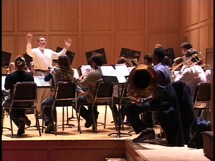 school of music majors -- that play in the ensemble that are part of this, but I'm also learning and becoming more seasoned, as well," Paré says. "So it's more of a matter of becoming better at the process and learning to be more creative in my teaching than it is learning anything that is brand new."
For more information on Wind Journey, and to get a copy of the disc, contact Craig Paré via e-mail by clicking here.
Back