New Book by Prof. Dennis Trinkle '91, The Napoleonic Press, is Published
November 11, 2002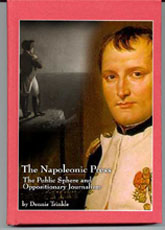 November 11, 2002, Greencastle, Ind. - A new book by Dennis A. Trinkle, director of 361° Initiatives, Associate Coordinator of Information Services and Technology, and Tenzer University Professor in Instructional Technology at DePauw University, entitled The Napoleonic Press -- The Public Sphere and Oppositionary Journalism, has been published by the Edwin Mellen Press. The cover art was created by Karen Mullins, an Information Technology Associate and senior at DePauw.
A synopsis by the publisher states, "This study challenges the prevailing scholarly view that newspapers ceased to fill a significant political function under Napoleon, and it demonstrates that they kept alive respect for freedom of the press and notions of active political involvement that had been legitimized by the Revolution." Reviewers have praised the work. J.M.P. McErlean writes, "A major contribution to Napoleonic historiography is the account discussing the existence of a political opposition in the periodical press, and this despite the tight control so frequently mentioned in earlier writers' accounts... The author has again pushed back the frontiers of knowledge in Napoleon's historiography... [and] it must be acknowledged that
Dr. Trinkle has made a contribution to Napoleonic history that should lead to the revision of most general accounts of Napoleon as far as they mention his control of the press."
J. Kelly Robison of Western Michigan University's Department of History opines, "In this groundbreaking book, Trinkle effectively demonstrates that, at least during a good part of Napoleon's reign, the public sphere continued to maintain its role as provider of news and a forum of public debate... His use of illustrations from the early nineteenth century French press is excellent. Trinkle's style of writing is a nice change from the jargon-laden monstrosities of many contemporary works," and adds, "University teachers of the period will want to place The Napoleonic Presson their list of required readings for their class. This work should prove to be a model for those scholars studying freedom of the press, the use of the press by governments and the public sphere in general."
You can read more about the book at the publisher's Web site by clicking here. Information is also available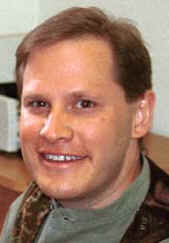 at Barnes & Noble.com and Amazon.com.
A 1991 graduate of DePauw, Dr. Trinkle teaches courses on the history of science and technology, teaching with technology, technology and society, and modern Europe. He serves as the executive director of the American Association for History and Computing and is a Fellow of the Frye Leadership Institute and the International Center for Computer-Enhanced Learning. He has published widely on technology, teaching, and history. His other books include The History Highway: A Guide to Internet Resources, Writing, Teaching, and Researching History in the Electronic Age, and History.Edu: Essays on Teaching with Technology.
Back