DePauw Freshman Interviewed by Award-Winning TV Journalist Carol Marin
November 14, 2002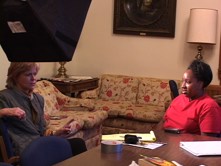 November 14, 2002, Greencastle, Ind. - Award-winning journalist Carol Marin, a former CBS News and 60 Minutes II correspondent and legendary Chicago news anchor, is on the DePauw University campus today filming footage for a documentary that she hopes will air nationwide next fall. The subject of her long-form story is Manley High School. Located in the inner-city of Chicago, Manley enacted reforms three years ago that were designed to improve the academics of the high school and better prepare students for college. One of Manley's success stories, DePauw first-year student Shavonne Taylor, brought Marin and her award-winning producer Don Moseley to the Greencastle campus.
[DOWNLOAD AUDIO: "Exciting and Nice" 130KB] "It's very exciting, I didn't expect anything like this," Shavonne Taylor says of her opportunity to be interviewed for the documentary, which Marin is producing for PBS. "It's nice and I'm appreciative that they picked me to talk about it."
Of Manley, Marin says,
[DOWNLOAD AUDIO: "Cracking the Code" 511KB] "This is a school that a lot of people consider a hopeless place. It's one of the poorest in Chicago, it has among the poorest test scores. The irony is that the principal there is a woman who, forty years ago, integrated a white high school on the South Side. She now presides over a totally segregated black school on the West Side,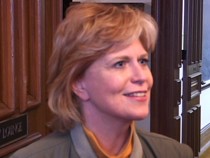 so [it's] a question of how much progress has been made. It's that principal, who is African-American, and a white Jewish thirty-something named Lila Leff, and together they're trying to crack the code of this hopelessness."
In the fall of 1999, Manley and the University of Illinois at Chicago launched a unique effort that centered on four full-time teaching coaches, one each in English, math, science and social studies. The program is now in its fourth and final year, which Marin and Moseley are documenting.
[DOWNLOAD VIDEO: "Umojia" 872KB] "Lila Leff is our main character and she's created a group called Umojia -- that's Swahili for 'unity,'" Marin says.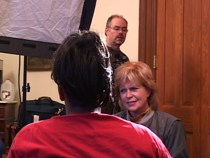 "The Umojia group is a way to take those Manley kids into another world-- take them out of Lawndale to show them that places like DePauw exist, that they're possible, that they're within their sights if they put together the right kind of package."
Taylor, a Umojia member while at Manley, said before her interview that she would
[DOWNLOAD VIDEO: "Helped & Inspired" 281KB] "focus on how [administrators and teachers at Manley] inspired me and how they got me to where I am today, because truly they were a help to me." She adds,
[DOWNLOAD AUDIO: "Proud" 177KB] "I'm proud to be a graduate of that school."
Three months into her first semester in college, the freshman says at DePauw,
[DOWNLOAD VIDEO: "The DePauw Experience" 293KB]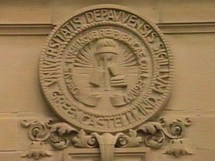 "You get the one-on-one from teachers and any extra help you need and you get to make friends really fast... I really like it."
Carol Marin, who before joining CBS News spent many years as an anchor and reporter at Chicago's WMAQ/Channel 5 and WBBM/Channel 2, has earned two Peabody Awards-- one for personal recognition of her accomplishments and integrity in broadcasting (1998)-- and a national Emmy Award (1999). Don Moseley is also the recipient of a Peabody Award and multiple Emmys. Besides their interview with Shavonne Taylor, the journalists tracked 17 Manley High School students who are visiting the DePauw campus today.
Back