Salt Lake Tribune Gets Prof. Jeff McCall's Take on Television's 'Increasing Coarseness'
November 19, 2002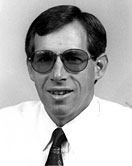 November 19, 2002, Greencastle, Ind. - "Ask TV experts why prime-time network programming has become increasingly coarse in the past five years, and you will hear one of two answers: cable TV or content ratings," begins an article in the Salt Lake Tribune that quotes a DePauw University professor of communication arts and sciences. "The networks, with the content ratings graphics at the top of a program and the V-chip technology now in TVs, feel that viewers are now fairly warned and thus have no business complaining if something offensive is on the air,' says Jeffrey McCall, a communications professor at DePauw University in Greencastle, Indiana."
The story, by John Kiesewetter, also includes quotes from Gail Berman, president
of FOX Entertainment; Warren Littlefield, the former NBC Entertainment president; and Melissa Caldwell, director of research and publicity for the non-profit Parents Television Council.
Dr. McCall, who is a 1976 graduate of DePauw, has been quoted in recent weeks in other articles in the Dallas Morning News (read more here), the Columbia Missourian (click here) and the Omaha World-Herald (here).
Source: Salt Lake Tribune
Back