Orchestra and Festival Choir Perform Sunday Afternoon
November 21, 2002
November 21, 2002, Greencastle, Ind. - The DePauw School of Music presents the DePauw Symphony Orchestra and DePauw Festival Choir, Orcenith Smith conducting, in a concert on Sunday, November 24 at 3 p.m. The choirs and orchestra will perform Claude Debussy's The Blessed Damozel and Zoltán Kodály's Budavári Te Deum. Joan Tower's 1992 orchestral work Fanfare for the Uncommon Woman, No. 4 will open the program.
French composer Claude Debussy wrote The Blessed Damozel in 1888 as a setting of Dante Gabriel Rossetti's poem by the same name. The poem, begun in 1847, has us consider the unusual perspective of someone who has already gone to heaven, and the restrained anguish they feel waiting for a loved one to arrive in heaven. Performing as soloist in the Debussy will be DePauw Associate Professor of Voice, Caroline Smith, singing the title role of the Damozel. Also featured will by Patricia Stiles, Assistant Professor of Voice at Indiana University.
Kodály's Budavári Te Deum is an overtly heroic work, celebrating an important anniversary in the life of the great Hungarian city, Budapest. Written for the 250th year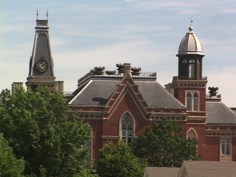 celebration of the once-divided city's victory over the Turks in 1686, the 1936 work presents itself with vigorous orchestral fanfares, choral fugues and operatic solo singing. Soloists for the performance will be DePauw faculty members: adjunct assistant professor of voice, Barbara Paré, and associate professor of music, Leo Goeke. Other soloists will be Indiana University faculty member Patricia Stiles and IU master's degree student Sam Spade.
The concert will be in Kresge Auditorium in the Performing Arts Center. Admission is free. For more information about School of Music events, contact (765) 658-4379.
Back