General Mills CEO Steve Sanger '68 Says DePauw Had "Lasting, Profound" Influence on His Life & Success
November 19, 2002
View Photo Gallery; Read About Cincinnati Presidential Reception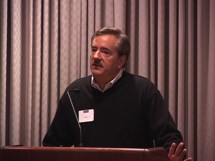 November 19, 2002, Minneapolis, Minn. -

[DOWNLOAD VIDEO: "Profound, Remarkable & Positive" 662KB]

[DOWNLOAD AUDIO: "Profound, Remarkable & Positive" 312KB] "The opportunities for leadership that that school afforded to its students I thought were truly unique," Steve Sanger, chairman and chief executive officer General Mills Inc., said of his alma mater, DePauw University, at a presidential reception at General Mills' Minneapolis headquarters tonight. Sanger, a 1968 graduate of DePauw, said, "When I think back about what my life has been since then, it's just remarkable to me how many of the things that had a profound, lasting effect on my life, in a positive way, all started during that four-year period when I was at DePauw."
The reception attracted prospective students and their parents and DePauw alumni from the Twin Cities and surrounding areas,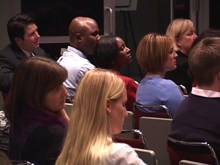 who learned about the academic and social programs, faculty, facilities and alumni who are making DePauw a University of increasing national significance.

[DOWNLOAD AUDIO: "All Trace Back" 171KB] "My career, the decisions about my career, all trace back to things that happened to me at DePauw," Sanger told the crowd. "I thought I wanted to be a lawyer when I went to DePauw, and DePauw had a course called Intro to Law. After taking that course I knew I didn't want to be a lawyer," he joked.
Sanger, who recently was named Working Mother magazine's "Family Champion" for "making moms' needs a priority" (

[DOWNLOAD VIDEO: "Leading at DePauw" 521KB]
"What I learned about leadership, what I learned about my interest in marketing came from DePauw." While at DePauw, Sanger served as president of the Student Union board, "a group that was mainly responsible for bringing entertainment to campus," with an annual entertainment budget of $3,000.

[DOWNLOAD AUDIO: "The Four Tops" 325KB] "I remember convincing Ted Katula [the board's faculty sponsor] that, despite the fact that the Four Tops cost $15,000 and our budget was $3,000, if we sold the right number of tickets for the right price we could actually maybe break even on this thing. He looked at me like I was crazy and then he said, 'Aw, go for it Sangs,' and so we did and we broke even. And I learned so much from making that thing happen," Sanger recalls.
Sanger, who now leads a company with over $13 billion in annual sales and approximately 30,000 employees,
which markets many of the most trusted consumer brands in the food industry, including Cheerios, Betty Crocker, Wheaties, Progresso soups, Green Giant vegetables and Yoplait yogurt, wound up bringing a number of big-name acts to DePauw for concerts.

[DOWNLOAD AUDIO: "Learning to Lead" 658KB] "It was a tremendously different experience for me, I was 19 years old and trying to figure out how to do this stuff. The remarkable thing about DePauw was, for every story that I could tell, the other students could tell equal stories ... it could be in the publications or communications areas, the radio station and the various leadership opportunities the greek system offered. The greek system, I think, created 20 or 25 little leadership enclaves that really needed people to take leadership roles. So, the reason, when you go to business functions and you find so many people who have gone on to leadership roles in business and in their lives came from DePauw, it's partly because DePauw demanded that of its students."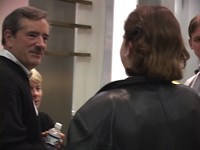 Sanger noted that he met his wife Karen [Ogren '68] at DePauw, calling that it the "greatest gift" resulting from his four years in Greencastle. He concluded his remarks by saying,

[DOWNLOAD VIDEO: "A Lasting Experience" 695KB]

[DOWNLOAD AUDIO: "A Lasting Experience" 315KB] "Beyond all the other aspects of it that I find so memorable, it was the opportunity afforded by that school to take risks and to take leadership roles that I value the most. I would tell all of you who are thinking about college decisions, DePauw is very much a place that you should consider. It's a great school, it's a great experience and it's one that will stay with you for the rest of your lives."
Those gathered for the reception also heard from DePauw President Robert G. Bottoms,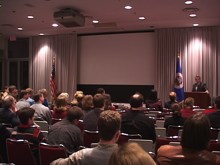 who said DePauw offers young people a great education as well as opportunities that prepare them for uncommon success in life.

[DOWNLOAD AUDIO: "Distinguishing Characteristic" 230KB] "Our students are quite focused. The experience Mr. Sanger described about taking that course in law and deciding he wasn't a lawyer: whatever you're interested in, through the internship program, you can test your wings, you can try things, you can get a right direction. If I had to name one thing that distinguishes us from some of the very high quality liberal arts colleges in the country, I would think it's the emphasis we place on preparing our students for the work world or for graduate and professional school."
Prospective students can learn more about DePauw University by clicking here.
Back