One DJ, One Turkey and 48 All-Request Hours -- WGRE to Raise Funds for Needy This Weekend
November 21, 2002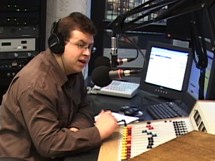 November 21, 2002, Greencastle, Ind. - DePauw's student-run-and-managed non-commercial radio station, WGRE (91.5 FM), will be raising money for the Putnam County Food Pantry with a Thanksgiving philanthropy radio marathon. WGRE station manager Andy McGovern will stay on the air for 48 consecutive hours, from noon on Friday, November 22nd until noon on Sunday, November 24th, taking requests and collecting donations to help raise money for less-fortunate local families over the Thanksgiving holiday.
WGRE will be kicking off the marathon with a live remote broadcast from the Hub in DePauw's Memorial Student Union Building starting at noon on Friday. Students can donate a dollar to request a song, participate in giveaway contests to win free prizes and enter to win one of two VCR/DVD players that will be given away on Friday and Saturday night.
Also on Saturday, WGRE will be doing remote broadcasts from the dorms and other living units to raise money and get song requests from students.
Local businesses are sponsoring the marathon, and free food from Marvin's will be handed out at the giveaway events on Friday and Saturday night in the lobby of the Eugene S. Pulliam Center for Contemporary Media. Stay tuned to 91.5 WGRE for more details!
Back