Entrepreneurial Hit 'Angie's List,' Founded by Angie Hicks '95, Eyeing Major Expansion
November 27, 2002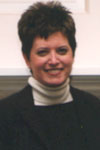 November 27, 2002, Greencastle, Ind. - Indianapolis-based Angie's List, founded by a DePauw University alumna, is embarking on a major expansion that will take the company into America's biggest markets, the Indianapolis Star notes in an article today. "Ultimately, the company, which began humbly the day in 1995 when company founder [Angie] Hicks graduated from DePauw University, could find itself stretching from sea to shining sea," writes the Star's J.K. Wall, who received a DePauw degree in 2001.
Angie's List, which currently operates in more than a dozen cities throughout the midwest, creates and maintains a list of home service providers -- from electricians to pest control companies -- and shares the data it collects with its customer base. So, if you need a pet-sitter, the company can give you a report that shows you which firms satisfied customers the most. The company plans to expand to Atlanta and St. Louis next month.

Describing her company's newspaper advertisement as "hokey," Hicks, a 1995 graduate of DePauw, tells the paper, "People think I run it out of my home. That's not a bad thing." In fact, Angie's List has 65 employees, 100,000 customers and estimates 2002 revenues could reach $8 million.
You can read the entire article, which includes a color photo of Angie Hicks, at the Star's Web site by clicking here.
Back