Egypt's Top Appeals Court Overturns Conviction of Former DePauw Professor
December 3, 2002
December 3, 2002, Greencastle, Ind. - Saad Eddin Ibrahim, the former DePauw University professor who has been jailed since July, has won a legal victory. The highest appeals court in Egypt has today overturned Dr. Ibrahim's conviction and ordered a retrial. The sociologist was convicted of embezzlement, receiving foreign funds without authorization and "tarnishing Egypt's image with his writings on democracy and human rights" and sentenced to seven years in prison, notes an Associated Press story, which says the trial and result "had been condemned by human rights groups around the world as politically motivated. The case had also strained ties between Egypt and the United States."
The 64-year-old Ibrahim was first convicted in May 2001, and was granted a retrial. This marks his second successful appeal. He has spent a total of 13 months in prison and media accounts state the professor is in poor health. The AP article notes the worldwide support Dr. Ibrahim has received, adding, "The sociology professor at the American University in Cairo holds both U.S. and Egyptian citizenship. His American wife, a native of Palatine, Illinois has been among the most vocal campaigners for his release.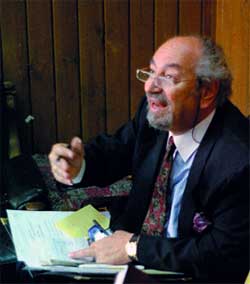 Barbara Ibrahim met her husband of 31 years when she was a student and he a teacher at Indiana's DePauw University." Saad Eddin Ibrahim taught at DePauw from 1967 to 1974. Barbara [Lethem] Ibrahim graduated in 1971.
You can read an account of today's appelate court decision by clicking here.
In late October, more than 70 protesters, many of them alumni and students of DePauw University, demonstrated outside of the Egyptian Cultural Center in Washington, D.C. in support of Dr. Ibrahim (read more here). The Middle East Times ran a February 4, 2002 story entitled, "Ex-students rally to Ibrahim's cause." You can read more about it by clicking here.
Back