Prof. Valarie Ziegler Receives 2002 Trinity Prize
December 5, 2002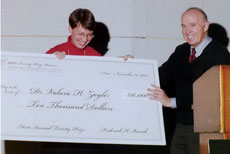 December 5, 2002, Greencastle, Ind. - Valarie H. Ziegler, Professor of Religious Studies at DePauw University, received the inaugural Trinity Prize at the joint annual meeting of the American Academy of Religion and Society of Biblical Literature, November 23-26 in Toronto, Ontario. The Trinity Prize, awarded by Trinity Press International, recognizes a writer or scholar whose cross-disciplinary writing has broad application for a general audience. Dr. Ziegler was honored for her new biography of Julia Ward Howe, which will be published in the fall of 2003. (Ziegler is seen in the accompanying photo with the Rt. Rev. Frederick Houk Borsch, former Episcopal Bishop of Los Angeles)
The Trinity Prize includes a $10,000 honorarium. In addition, Trinity Press International
will publish the winning writer's book.
Professor Ziegler, a winner of the DePauw University Exemplary Teaching Award in fall 1997, joined the DePauw faculty in 1995, after teaching for a decade at Rhodes College. She is also the author of The Advocates of Peace in Antebellum America and co-author of Eve and Adam: Jewish, Christian, and Muslim Readings in Genesis and Gender. She has also written articles on Elvis Presley, women in the Southern Baptist Convention, gender and American Pacifism, as well as the preface to Betty DeBerg's Ungodly Women: Gender and the First Wave of American Fundamentalism.
In her new book, Dr. Ziegler explores the life of Julia Ward Howe (1819-1910), author of the poem Battle Hymn of the Republic, an activist in the women's rights movement as a founder of both the New England Woman's Club and the Association for the Advancement of Women, and the first woman to be elected to the American Academy of Arts and Letters.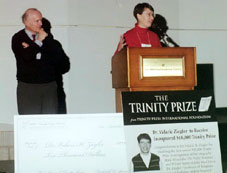 A synopsis of Ziegler's book states, "In a style accessible to a broad audience, this biography reveals the remarkable contrast between Julia's public image and the private agonies she endured as an ambitious woman trapped in a restrictive and desparately unhappy marriage. Wanting above all to make a name for herself as an author, Julia was blocked at every turn by her husband, Samuel Gridley Howe, who was determined that she confine herself to the home... With a heady cast of supporting characters such as Longfellow, Emerson, Oscar Wilde, and Helen Keller, this biography dramatically illustrates not only the obstacles Victorian women faced in their search for political power and personal authonomy, but also the Howes' frenetic efforts to mold complex family realities into a suitably heroic public image."
Back