Award-Winning Dr. G. Robert DeLong '57 Credited with Curing 'Centuries-Old Ills'
December 5, 2002
December 5, 2002, Greencastle, Ind. - Dr. G. Robert DeLong, associate professor of pediatrics at Duke University Medical Center and a 1957 graduate of DePauw University, "created a way to end iodine deficiency in Chinese villages" and save lives, the News & Observer of Raleigh, North Carolina notes in naming DeLong "Tar Heel of the Week." The 66-year-old DeLong, formerly chief of pediatric neurology at Duke, is the 2002 recipient of the E.H. Christopherson Lectureship award, honoring contributions to pediatric medicine internationally, by the American College of Pediatrics.
"The children in the Chinese village disturbed him most: One in 10 suffered from mental retardation, deafness and other problems that were preventable with a small dose of iodine," writes Sarah Avery. "Yet even armed with the solution, Dr. DeLong... was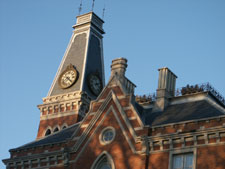 stumped. How could he resolve a centuries-old problem that had defied all other modern interventions? But resolve it he did, with an innovative approach that added iodine to ordinary water, so that the 2.6 million people downstream ingested enough of the essential mineral to end the cycle of disease."
As a result of Dr. DeLong's work, "Infant mortality rates were cut in half. Goiters disappeared. The children grew taller and had an average IQ 16 points higher than children in nearby villages where the water wasn't iodized. Even the livestock thrived... Now DeLong is spreading his iodizing approach to other villages in other countries, modifying the technique where necessary."
Dr. Gordon Worley, a pediatrics professor at Duke who nominated DeLong for the Christopherson award, said of DeLong's work, "This is
social responsibility at its best... In 1854, Dr. John Snow traced a cholera epidemic in London to water from the Board Street Pump. He took the handle off the pump and the epidemic subsided... Dr. Snow would recognize Dr. DeLong as a kindred spirit."
The lengthy article, entitled "Doctor's creative thinking cures centuries-old ills," includes comments from Dr. DeLong and his wife, Nancy (Ade}, also a member of DePauw's Class of 1957. You can read the story in its entirety at the News & Observer Web site by clicking here.
Back