Anne Peckinpaugh '00 Quoted in Star Story on 'Theology on Tap'
December 5, 2002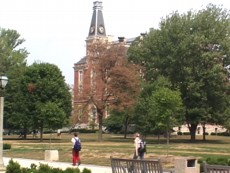 December 5, 2002, Greencastle, Ind. - An article in today's Indianapolis Star on a program called Theology on Tap includes the perspective of a young alumna of DePauw. "At 24, Anne Peckinpaugh has been searching for a deeper spiritual influence in her life," the Star's John J. Shaughnessy writes. "Coming to Theology on Tap has been a significant part of that search for the Broad Ripple resident, a Protestant."
"'It provides a relaxed environment to learn about various aspects of the Catholic Church, God and Scripture -- and how issues of faith apply to our lives today,' says Peckinpaugh, a 2000 graduate of DePauw University and a senior management analyst for a consulting firm. 'It's also a good opportunity for social interaction," she says. "The group attracts young adults and allows them to relate to each other on many levels. It also has a really great attitude of acceptance for all faiths.'"

Shaughnessy notes that "more than 100 young adults have been meeting every other Wednesday for an evening of faith, friends, conversation and music -- reflecting the theological trend of trying to connect with young people in social settings far removed from a church." The meetings take place at the Rathskeller, a restaurant and tavern in downtown Indianapolis.
You can read the article online at the newspaper's Web site by clicking here.
Back