Lawrence Young '84 Named CFO of AT&T Latin America
December 10, 2002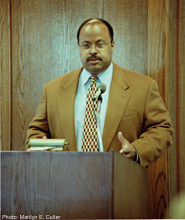 December 10, 2002, Greencastle, Ind. - Lawrence E. Young Jr., senior associate with AlixPartners LLP and a 1984 graduate of DePauw University and a member of DePauw's Board of Trustees, has been named chief financial officer of AT&T Latin America (Nasdaq: ATTL), a facilities-based provider of integrated business communications services in five Latin American countries. AT&T Latin America recently announced that it plans to restructure its business and had hired AlixPartners, which specializes in corporate turnaround and restructuring work, as its financial adviser.
"Larry Young is the ideal CFO for us because of his vast experience in working with companies in financial distress," said AT&T Latin America chairman, president and CEO Patricio E. Northland. "I am confident he will help us over the next several months to regain firm financial footing." Northland said Young will work with current CFO Nelson Murphy until the end of the month to ensure a smooth transition, at which time Murphy will leave the company to pursue other opportunities.
An article at Forbes.com notes that "Young has worked in other turnaround situations and previously served as CFO and chief restructuring officer (CRO) for Sunterra Corporation, a timeshare developer." The Washington Business Journal writes, "Young has stepped in as CFO at several companies in turnaround situations. Prior to joining AlixPartners, he was a principal with Carpediem Capital and a senior manager at Deloitte &
Touche Consulting." A news release issued by AT&T Latin America states, "Young holds an M.B.A. from the Wharton School of Business and an undergraduate degree from DePauw University. He is a certified reorganization accountant."
You can access the Forbes story by clicking here, and the Washington Business Journal here.
Young's appointment was also noted in the New York Times, accessible by clicking here.
Back