Monon Bell DVD Arrives, Now Shipping!
December 11, 2002
Order Your Monon Bell DVD; 2002 Game Summary & Highlights
December 11, 2002, Greencastle, Ind. - "It's here," says director of media relations Ken Owen of the DVD of the 2002 Monon Bell football game, copies of which arrived today from Sony Disc Manufacturing. "Those who've already ordered the discs should be receiving it in the next few days, and for those who order now, we can guarantee delivery for Christmas." The three-hour digital platter features every play of the game, the video profiles of DePauw University and Wabash College, the all-time scores of the storied rivalry, and 14 "Monon Memories," vignettes that highlight past battles for the Bell (the 1940, 1953, 1955, 1967, 1970, 1971, 1973, 1977, 1980, 1983, 1986, 1990, 1994, 1997, 2000 and 2001 "Memories" are included on the DVD).

[DOWNLOAD VIDEO: "1955 Monon Memory" 1772KB],

[DOWNLOAD VIDEO: "1990 Monon Memory" 3182KB] "For players, their parents and their friends, it's a permanent, high-quality keepsake that they'll be able to replay years from now and look back upon," Owen, a 1982 DePauw graduate, noted. "For fans of this great rivalry, it's a terrific collectible, especially given the addition of the 'Monon Memories.'" Much of the historic footage utilized in the clips has not been seen publicly before.

[DOWNLOAD VIDEO: "2000 Monon Memory" 1639KB]

[DOWNLOAD VIDEO: "1973 Monon Memory" 1833KB]The DVD was mastered by Owen, with assistance from Jim Amidon, director of public affairs and marketing at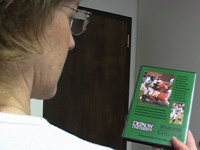 Wabash College. By using the chapter menus, users can immediately jump to key plays in the game. Quantities of the 2002 DVD are limited -- only 1,000 were produced.
Copies of the 2002 DVD are $15 each (plus shipping/handling; Indiana residents must add sales tax) by clicking here. Remaining copies of the 2001 Monon Bell DVD are available for $10 by clicking here. Please allow one week for delivery.
The DVD is also available at the Borders Books & Music store at Keystone at the Crossing on the north side of Indianapolis.
Back