Robert Tongren '69 Elected President of National Utility Watchdog Group
December 12, 2002
December 12, 2002, Greencastle, Ind. - Robert S. Tongren, Ohio Consumers' Counsel and a 1969 graduate of DePauw University, has been unanimously elected president of the National Association of State Utility Consumer Advocates (NASUCA). The Association represents the interests of consumers on federal and state electric, natural gas, telephone and water issues. Tongren will continue to serve as Consumers' Counsel, Ohio's advocate and legal representative for residential consumers of investor-owned electric, natural gas, telecommunications and water companies.
"With more utility issues being decided by Congress and federal agencies, the importance of this organization has increased dramatically," Tongren says. "I look forward to using my experiences as a consumer advocate to impact legislation and provide benefits to consumers on the national level."

Credited with creating innovative programs to educate and protect residential consumers, Tongren helped build a comprehensive outreach and education program that distributed over 370,000 pieces of educational information and gave presentations to 63,000 consumers and organizations in 2001. Since assuming his leadership role in Ohio in 1994, Tongren was also instrumental in developing two of the nation's most successful natural gas choice programs in which consumers have saved over $130 million to date. As the state restructured its electric market, Tongren helped secure consumers numerous benefits including capped distribution rates for as many as six years,
a five percent reduction in generation rates, opportunities for local government aggregation and the availability of discounted power to jumpstart competition in northern Ohio. In addition, he has advocated for local telephone competition for residential consumers over the past seven years. As a result of efforts by Tongren and others, Ameritech Ohio's wholesale prices have been lowered and more competitors are now offering local telephone service to residential consumers.
"Our nation's advocates play an increasingly important role in the lives of residential consumers as they begin to make more decisions about their utility services," said Stephen Ward, Maine's Public Advocate and the outgoing NASUCA President. "Rob Tongren will bring his commitment to educating consumers and delivering them benefits to the national stage. With so many opportunities ahead,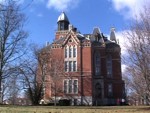 I am excited about his vision for our organization."
Tongren has been active in utility law since the early 1980s, serving as the Ohio Attorney General's Chief Counsel to the Public Utilities Commission of Ohio and as an Assistant Vice President at United Telephone before his appointment as the Ohio Consumers' Counsel in 1994. After earning his bachelor's degree from DePauw, Tongren received his law degree from the University of Akron School of Law. Prior to his NASUCA presidency, Tongren served as vice president of the organization.
Back