January's Winter Term in Service Trips Span the Globe
December 13, 2002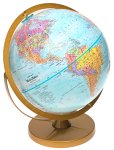 December 13, 2002, Greencastle, Ind. - Four Winter Term in Service teams will depart from DePauw University during the first week of January 2003 to assist with construction, medical and public health projects on three continents. The mission of the annual trips, the result of 16 months of detailed planning, is to provide students, faculty members and professionals an opportunity to work collaboratively with another community to better the quality of life. Through this immersion in local communities, participants gain an awareness and understanding of our human interconnectedness.
Winter Term in Service trips are supported by alumni gifts to the DePauw Annual Fund. Alumni support helps provide students with the opportunity to participate in faculty-led projects or service trips during Winter Term or off-campus study programs.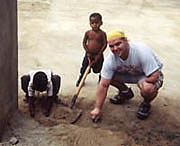 The WTIS teams are composed of 15-20 DePauw student applicants, divided into components for construction, medical clinics and public health education. There is a central core of student officers to direct the project activities – from the spring before the journey to after the teams' return. Occasionally, there are student translators, particularly in Spanish. There are two faculty sponsors for international trips and one for domestic. On teams with the medical component, there are volunteer doctors, dentists and nurses, and frequently on the construction side, volunteer professionals in, for example, engineering or construction.
The longest journey during WTIS 2003 will be by the team to Ghana where, in collaboration with the volunteer medical agency FAME, the students will begin construction of a chapel in the town of Nkwanta. FAME has an established clinic in the area, and the medical component of the student team will provide public health education and primary care clinial work. The team will stay in a small hotel in Nkwanta, and a local volunteer will prepare the team's meals, a mixture of American and Ghanaian food. The faculty sponsors are Jim Rambo and Scott Sanborn, both modern languages faculty members at DePauw. Sanborn was in Ghana on a Fullbright Award, and he speaks the local language of the site as well.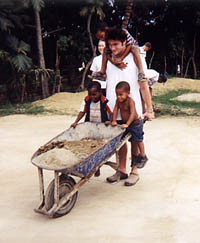 The next farthest journey will be to Asunción, the capital of Paraguay, where the team will work in an urban environment on a construction blitz with Habitat for Humanity and partner with community health clinics in the city. The team will stay in a retreat center, with breakfast and dinner provided and lunch provided at the work sites. Faculty sponsors are Kelley Hall, assistant professor of sociology, and Ann Jennings, assistant professor of economics and management and Women's Studies.
Close to that is the trip to Quito, the capital of Ecuador. In conjunction with Tierra Nueva, a Catholic social service organization, the team will work on a building project at itshospital or one of its other medical facilities. The medical component will work at local clinics as well as travel to smaller villages nearby. The team will stay in Tierra Nueva's retreat center, composed of cabins for 12 people, and a large main gathering center. The faculty sponsor is Cathy Hamilton, director of the Grover L. Hartman Center for Civic Education and Leadership, who also teaches in University Studies.
Returning to the northern hemisphere, a team will go to Hampton Court and Duckenfield, Jamaica, where the sponsoring agency is Global Children, an organization dedicated to improving the welfare of children, families and communities in need. The team will work at improving the local clinic and school and may work with Habitat for Humanity as well. The medical team will provide primary care clinics in the community, about a two-hour drive from Kingston.The team will be housed in a community center, and local women will help prepare meals. The faculty sponsors are Kimberly Ellis, Faculty Fellow and part-time assistant professor in English and Black Studies, and Tiyi Morris, Faculty Fellow and part-time assistant professor in history.
For more information about Winter Term in Service at DePauw, click here.
Back