Essay in London Review of Books Writes of Former Professor's Legal Battle, Alumni Support from Fluttering Duck
December 14, 2002
December 14, 2002, Greencastle, Ind. - An article in the current (December 12) issue of London Review of Books includes "My Egyptian Cousin," an essay by Jonathan Lethem, who writes, "I have never travelled further from New York than Western Europe; Saad Eddin Ibrahim is an advocate of democracy imprisoned in Egypt. But Saad and I are both outlying members of the same sprawling Midwestern family: Saad is married to my first cousin Barbara. His name is much in the news and on the op-ed pages these days, if you're looking out for it." Saad Ibrahim taught sociology at DePauw from 1967 to 1974. Barbara (Lethem) Ibrahim is a 1971 graduate of DePauw.
On December 3, Egypt's highest appeals court overturned Dr. Ibrahim's controversial conviction on charges of embezzlement, receiving foreign funds without authorization and tarnishing Egypt's image, and ordered a retrial. The case against Ibrahim, a pro-democracy activist, has been condemned by human rights groups around the world, which maintain the charges are politically motivated.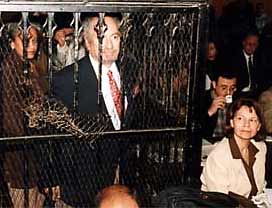 Jonathan Lethem writes, "My cousin Barbara [seen sitting alongside her husband in an Egyptian courtroom] spent her childhood in the Chicago suburb of Palatine, and met Saad in 1967 when she was his student at DePauw University in Indiana; they were married in 1971 and moved to Cairo, where their two children grew up and where she is a director of research with the International Population Council." He also notes, "Among the many international groups to send representatives to Washington, D.C. on 25 October for a Free Saad Eddin Ibrahim rally was the Duck, a group of Saad's former students and colleagues from DePauw, named for the Fluttering Duck -- a, yes, coffeehouse, at the corner of Center Street and Vine in Greencastle, Indiana, where the lecturer and his Midwestern acolytes used to hang out. In a recent e-mail circular, the Duck reminded members to send notes of protest to the Egyptian Embassy, in order to help the Ibrahim family 'to keep on keeping on'."
Lethem, the author of several novels including Motherless Brooklyn, penned his essay before the appelate court decision was rendered. But he asserts that the imprisonment of Dr. Ibrahim "serves a purpose. I have tried to understand it this way: imagine
that the President of the United States, rather than ignoring the bee-stings of a dissident leftist -- Noam Chomsky, say, or Ralph Nader, perhaps Michael Moore -- had had him imprisoned. Astonishment would quickly give way to fear of speaking out. The incarceration of one person, the right person, can be an act of the most ruthless efficiency."
You can read the lengthy article in its entirety at the London Review of Books Web site by clicking here.
Back