Former DePauw Art Instructor's Exhibition Previewed in Newspaper
December 17, 2002
December 17, 2002, Greencastle, Ind. - "When painter Nancy Morgan-Barnes left Indiana, she was ready for a change of scenery," S.L. Barnes writes in the Indianapolis Star. "A native Hoosier who had spent 19 years teaching art at DePauw and Indiana universities, she and her husband, artist Robert Barnes, decamped for Maine about a year and a half ago. They settled in the coastal town of Searsport and bought a house that once had belonged to a sea captain. It proved to be an inspirational move." (Morgan-Barnes' Departure is seen at left)
Of her "new life," the artist tells the paper, "I get up in the morning, go to the studio and paint all day. In Maine, there's not much else to do." She adds, "I miss the energy of young people, but I like having time to work free from other concerns. There are no distractions here. It's amazing how much you can get done when you can paint all day."
The Star article coincides with a new exhibition of Morgan-Barnes' work, "Not Very Still Lives," at the Ruschman Art Gallery at 948 N. Alabama Street in Indianapolis, which continues through January 11.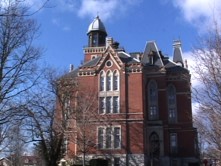 During her 30-year career, Nancy Morgan-Barnes has exhibited her paintings in Italy and throughout the United States. Some of her most recent shows were held at The Painting Center in New York City, and the Wright State University Art Gallery in Dayton, Ohio. Morgan-Barnes taught in DePauw's Art Department during the 1985-86 academic year.
You can access the complete newspaper story online by clicking here.
Back