TIME Names Book by James B. Stewart '73 Year's Best
January 3, 2003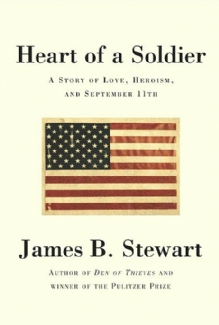 January 3, 2003, Greencastle, Ind. - Heart of a Soldier: A Story of Love, Heroism, and September 11th by Pulitzer Prize-winning journalist and author and 1973 DePauw University graduate James B. Stewart has been named "Best Non-fiction Book of 2002" by TIME magazine. In a section of TIME's year-end issue, dedicated to the "Year in Culture," Lev Grossman and Richard Lacayo write, "Most books about the attacks on September 11th felt like they were written in 10 minutes. James Stewart's Heart Of A Soldier reads like the product of 10 years of careful research and meditation."
TIME's critics note that Stewart's book is "a biography of Rick Rescorla, an American soldier of fortune whose life ended at the World Trade Center, and it takes the reader through his

harrowing service in Vietnam, an unexpectedly tender romance late in life, and, with searing clarity, his final minutes in Manhattan. War story, love story, history, Heart of a Soldier is everything you want and need it to be: calm, beautifully composed and consoling."
Other books by James B. Stewart, a member of DePauw's Board of Trustees, include Den of Thieves, Blind Eye and Blood Sport. The former front page editor of the Wall Street Journal (where he received a Pulitzer Prize for articles on the 1987 stock
market crash and the insider-trading scandal), Stewart is currently editor-at-large of SmartMoney magazine and reporter-at-large for the New Yorker. The San Francisco Examiner called Stewart, who served as editor of The DePauw while a student in Greencastle, "the journalist every journalist would like to be."
You can access the "best of" list at TIME.com by clicking here.
See clips of James B. Stewart on the September 11, 2002 edition of NBC's Today by clicking here.
Back