Local Charities Benefit from DePauw-Led CTEP, Which Now Has a Global Reach
January 6, 2003
January 6, 2003, Greencastle, Ind. - The positive impact of the Community Technology Enhancement Program (CTEP), which collects computer hardware from DePauw University and the Putnam County community, refurbishes the equipment, and distributes it to people in need, continues to grow. CTEP has recently delivered two computers to Putnam County Comprehensive Services, another pair to Gathering Grounds coffee house (to serve as free internet access portals for the Greencastle Community), one computer each to Habitat for Humanity and Hope's Way, and two PCs were shipped to Tierra Nueva in Quito, Ecuador, "to be set up to allow for video exchanges between young folks in Quito Sur, one of the poorest areas in Quito, and DePauw students," reports Bob Hershbeger, assistant professor of Spanish and Film at DePauw and coordinator of CTEP.
DePauw senior Andy McGovern, a Spanish and Computer Science major, is spending the month in Ecuador as a Winter Term in Service. He will set up the computers and the platform that will allow for the video exchanges.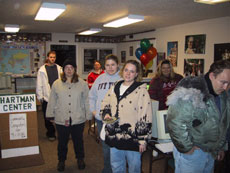 "We've seen first-hand the life-changing experiences that people have had locally after being given a computer, a 'window to the world', if you will. Now CTEP's reach is literally global," Dr. Hershberger says. "It's wonderful to think that an older computer that could be gathering dust in a closet can instead give a person in need the opportunity to learn, communicate and explore in ways they've never been able to before."
In December, CTEP distributed 18 free computers to local families in a "Computers for the Community" giveaway (read more here), and has provided dozens of free computers to qualifying families and organizations in Putnam County. If you or your organization has a computer you'd like to donate, send an e-mail here or call Bob Hershberger at (765) 658-4745.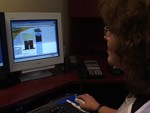 "This is a great example of neighbors helping neighbors," assesses Hershberger. "DePauw is proud of CTEP and couldn't be more pleased with the impact its having on our community."
Andy McGovern, a senior Spanish and computer science major at DePauw, will be setting up the computers and the exchange platform during his WTIS trip to Ecuador this January.
Back