Help a Student Find the Right Graduate School
January 8, 2003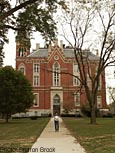 January 8, 2003, Greencastle, Ind. - It's the time of year when DePauw seniors are contemplating their future plans, and many are considering graduate schools. Students wishing to attend graduate school often have concerns about which is the best school for them, how should they apply, what information should they provide about themselves to make them the most attractive to their selected graduate school, and other questions. DePauw alumni who attained advanced degrees can be a great resource for current grad school hopefuls. You may be particularly qualified to provide valuable advice and counsel about the graduate school process, and especially about the particular institution from which you received your advanced degree.
Current DePauw students would benefit greatly from your advice on such questions as the following:
What is a graduate school really looking for in an applicant?
What are the best references to provide?
How important are GRE scores and grade point average?
Who are the best professors to consult about the graduate programs?
Is financial aid available, and how much can I expect to receive?
How can I be successful in graduate school?
If you are willing to help open doors for current DePauw students with this important step in their eduational careers, please submit your name, DePauw class year, graduate degrees received, and name of graduate school attended to Christopher J. Wurster '69, DePauw's director of alumni relations, by calling toll-free 877-658-2586 or sending an e-mail by clicking here.
Back