Considering College? Need Financial Aid? Attend 'College Goal Sunday 2003'
January 15, 2003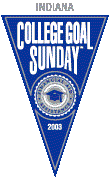 January 15, 2003, Greencastle, Ind. - If you're interested in attending college, and want to know what financial aid is available to you, mark Sunday, February 9 on your calendar. On that day, College Goal Sunday will take place at DePauw University and 33 other sites around the state from 2 to 4 p.m. College-bound students are invited to the auditorium of the F.W. Olin Biological Sciences Building at 1 East Hanna Street.
More Indiana students are going to college this year than ever before. The State Student Assistance Commission of Indiana (SSACI) reports 11,438 more Indiana students enrolled for college this year compared to last year. As these students compete for admission to universities and colleges, they also compete for financial aid dollars. To receive state and federal aid, college-bound Indiana students must complete the Free Application for Federal Student Aid (FAFSA). This form, required by educational institutions nationwide, must be received by the federal processor on or before Indiana's March 10 deadline. College Goal Sunday, a free, statewide charitable program in its
14th year, will assist students and their parents or guardians in completing FAFSAs correctly and on time to help students claim maximum financial aid awards.
Students 23 years of age or younger should attend College Goal Sunday with a parent or guardian and bring their parents' completed 2002 IRS 1040 tax return, W-2 Form, or other 2002 income, asset and benefits information. If parents or guardians are unavailable, students may attend alone and must bring the same information. Students 24 years of age or older may attend alone and bring their own completed 2002 IRS 1040 tax return, W-2 Form or other 2002 income, asset and benefits information. Everything else -- pens, pencils and FAFSA forms -- will be provided.
Students attending College Goal Sunday qualify for a chance to win an educational prize to help finance their higher education. Three educational prizes, worth $300 each, will be awarded statewide -- one for northern Indiana, one for central Indiana and one for southern Indiana. The winners will be notified in March; prizes will be sent directly to the higher education institutions selected by winning students. To enter the drawing, students must attend College Goal Sunday and submit a completed evaluation form.
College Goal Sunday is sponsored by the Indiana Student Financial Aid Association (ISFAA), in cooperation with the Indiana Career and Postsecondary Advancement Center (ICPAC), the State Student Assistance Commission of Indiana (SSACI) and the Office of Twenty-first Century Scholars.
It is funded by Lilly Endowment, Inc., Lumina Foundation for Education and USA Funds, three Indiana-based non-profit organizations with a particular interest in higher education.
"College Goal Sunday provides financial aid professionals an opportunity to remove the paper barriers to college financial aid," said Jeffery Pethick, ISFAA president and assistant director of financial aid, University of Notre Dame. "Each year, the Indiana Student Financial Aid Association is fortunate to have the support of volunteers from the financial aid and education communities as we together help more than 5,000 students complete their financial aid applications. ISFAA is proud to support such a worthy cause."
For more information about College Goal Sunday, call 1-800-992-2076, or click here.
Back