Former DePauw Coach Elmer McCall Recalls State Basketball Championship
January 16, 2003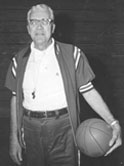 January 16, 2003, Greencastle, Ind. - "[Elmer] McCall has lived in South Bend the past six years after spending many years in Greencastle," notes the South Bend Tribune today in an article on McCall, the former head basketball coach at DePauw University and, prior to that, South Bend Central High School. "After winning a second state championship in 1957, he went to coach at DePauw University. When he left DePauw, he continued to live there," writes Al Lesar in a story on the 50th anniversary of South Bend Central's first state championship, which will be celebrated tomorrow night.
"All this seems like it happened yesterday, not 50 years ago,'' Coach McCall tells the newspaper. "There are so many things about that season that I remember so well. I'm just happy that South Bend is making the effort, too. It was really a special team.''
South Bend Central was in need of a new coach for the 1952-53 season, and the article points out that, "McCall, a native of Frankfort, Indiana, who had won two junior college national titles as a coach at his alma mater, Ventura (Calif.) Community College, needed to return to Indiana for family reasons. Though just 36 years old, he found the Central opening and stepped in."
Jack Wiltrout, a senior on that team, recalls, "My first impression of (McCall) was that he looked like a college professor. Elmer, though, was a gentleman. We appreciated that." Paul Harvey, a guard on the state championship team, tells the Tribune, "He had our minds. He was very calm and he was always very positive. I remember in a semistate game, I only had two points at halftime. He pulled me aside and told me that I was better than the way I had played, that I could do it. I went out and scored over 20 in the second half.

He was in control. He took us and made us believe we could win. I've never seen anything like that since then.''
Elmer McCall served as DePauw's head men's basketball coach from 1958 through 1978 and is the program's all-time leader in wins (with 182; current head coach Bill Fenlon has 175). McCall also served as the University's head men's tennis coach from 1978 through 1981. You can read the article, which includes some vintage photographs, in its entirety by clicking here.
Back