Gregg Notestine '83 Named President of Duffy Tool & Stamping
January 17, 2003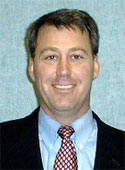 January 17, 2003, Greencastle, Ind. - Greggory A. Notestine, a 1983 graduate of DePauw University, has been named president of Duffy Tool and Stamping, a Muncie, Indiana based manufacturer of metal stampings, multislide and specialty products to automotive, appliance, refrigeration and other industries. Duffy is a wholly owned subsidiary of the privately owned, Cleveland-based Brittany Corporation. Notestine replaces Tom Endicott, who is retiring.
"I am excited to become a part of a great Duffy team and look forward to working with the people at Duffy and at Brittany. I think my management approach is very similar to Tom's which should make the transition internally and with our customers very easy," Notestine says. Frederick W. Clarke, president and CEO of Brittany, adds, "We have aggressive growth plans for Duffy and thanks to Tom Endicott's leadership, Duffy is well-positioned to accomplish that growth as market conditions improve. Furthermore, we believe Gregg's extensive manufacturing management experience both domestically and internationally add further depth and substance to one of our strongest businesses."
Notestine joined global automotive supplier ArvinMeritor in 1987 where he most recently was head of the company's OE Ride Control business, including management responsibility for ArvinMeritor's joint ventures with Kayaba Industry
Company, Ltd., the leading Japanese shock absorber manufacturer. Notestine also was active in ArvinMeritor's automotive exhaust system business during his tenure with the company. As a vice president in the Light Vehicle System Division, he managed ArvinMeritor's exhaust business with Ford Motor Company, which involved manufacturing and supplying exhaust parts to Ford in over 10 countries, including Thailand, India and Germany.
From 1995 to 1998, Notestine lived and worked in Brazil where he led ArvinMeritor's business development activities in South America, including the establishment of new exhaust operations in Venezuela and Argentina. Before his assignment in Brazil, Notestine acted as treasurer and secretary of the company's Arvin Sango joint venture in Madison, Indiana. Arvin Sango is a major supplier of exhaust systems and stampings to Toyota's North American assembly operations.
In addition to his Bachelor of Arts degree in Economics from DePauw, Gregg Notestine earned an M.B.A. from Harvard Business School.
Brittany Corporation, a Cleveland-based company, owns several manufacturing companies that serve a broad array of industr
ial and consumer markets including metal stampings and castings, die-cut material, ceramic stoneware, close tolerance gaskets, and specialty packaged desiccants. The Brittany companies have 10 manufacturing plants in Ohio, Indiana, Michigan as well as Mexico with consolidated sales of approximately $200 million.
You can read a company news release on Gregg Notestine's appointment at Yahoo.com by clicking here.
Back