Finishing Touches Being Put on New Social Space at Walden Inn
January 17, 2003
January 17, 2003, Greencastle, Ind. - As crews worked behind him cleaning windows and vaccuuming carpeting, Randy Rhine, innkeeper of the Walden Inn said this afternoon,
[DOWNLOAD AUDIO: "Very Close" 40KB] "We're getting very close and it's very exciting. I'm so pleased with everything that I'm seeing." The 19,000 square foot expansion of the Inn, which is located on the DePauw University campus, will host its first event tomorrow night, the Winter Term formal dance.
The enlarged facility has a number of features, including a new and much larger Fluttering Duck (which will be ready on or before Super Bowl Sunday and is equipped with an array of televisions for sports fans, not to mention granite-top tables),
a banquet room with space for 250 people (expandable to accommodate 100 more) and study space for students to work alone or in groups.
Rhine says members of the DePauw community and residents of Putnam County are
[DOWNLOAD AUDIO: "Growing Enthusiasm" 116KB] "very excited. They like the corridors, they like the interiors, they love the new Fluttering Duck and all of the decor and lights that we have in there. It's gonna be a fun room, it's going to be real interactive with some of the entertainment [that will be brought in and] the sports wall that's there. The enthusiasm is just growing right now," the innkeeper says.
Student groups and organizations can utilize the new space for social events, and members of the community have a new option for
[DOWNLOAD VIDEO: "Well-Received" 305KB] "weddings, reunions, small meetings... it's been very well-received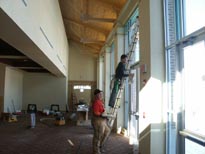 so far," Rhine reports, adding that bookings for the new facility are very strong even before it has hosted its first event.
Crews will continue putting finishing touches on the project over the next few weeks. While the newly-expanded Walden Inn opens tomorrow night, a formal grand opening ceremony will take place some time in the spring.
You can contact the Walden Inn at (765) 653-2761.
Back