Award-Winning HS Football Player Eyes DePauw
January 21, 2003

January 21, 2003, Greencastle, Ind. - Phil Watkins, a senior at Bloomington (Indiana) South High School and a defensive end on the school's football team, is the recipient of the Scholar-Athlete award presented by the National Football Foundation and College Hall of Fame to seniors who excel on the field, in the classroom and in the community. An article in the Bloomington Herald-Times notes, "Watkins has a basket-load of credentials, including being No. 1 in his class academically with 4.0 grades. The 6-1, 215-pounder doesn't plan to play football in college and is looking to attend Indiana, Purdue, DePauw, Miami of Ohio, Michigan or Notre Dame. He's thinking about studying medicine."
The paper's Rex Kirts writes that when Watkins isn't studying or tackling, he's "one of the lead singers in Sounds of South, was a delegate to Hoosier Boys State, attended a summer choreography camp, was selected for the LOTS program, plays the sax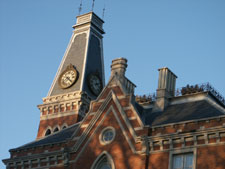 in the St. Charles folk group and works with Habitat for Humanity. Also, he is in the National Honor Society, was selected for the Leaders of Tomorrow, is a member of the Senior Advisory Board, mows a lot of lawns and is busy making video highlights for the football team and individual players. Besides doing all these things his senior year, Watkins traveled to the Statue of Liberty with Sounds of South to perform patriotic songs at a September 11th remembrance service."
You can read the entire article online at the newspaper's Web site by clicking here.
Back