Spike Lee to Deliver Ubben Lecture April 3
January 31, 2003
January 31, 2003, Greencastle, Ind. - "Spike Lee is not only one of the best filmmakers in America, but one of the most crucially important," says noted film critic Roger Ebert. On Thursday, April 3, Spike Lee will come to the campus of DePauw University to deliver a Timothy and Sharon Ubben Lecture, "America Through My Lens." The speech, which like all Ubben Lectures is free and open to the public (see list of past speakers here), begins at 7:30 p.m. in Neal Fieldhouse of DePauw's Lilly Center, 702 S. College Avenue.
Producer, director, writer and actor Spike Lee has established himself as one of Hollywood's most important and influential filmmakers in the past decade. His work is technically original, politically-inspired, and often controversial. Lee's films include Do the Right Thing, Malcolm X, Clockers, He Got Game and 25th Hour, which was released last month.
Born in Atlanta and raised in Brooklyn, Lee attended Morehouse College in Atlanta. After graduation, he continued his education at New York University. His NYU student film was showcased at Lincoln Center and won the Student Award of the Academy of Motion Pictures. Lee received his Master of Fine Arts degree in film production and then founded 40 Acres and a Mule Filmworks (a production office), 40 Acres and A Mule Musicworks (a record company), and Spike's Joint (a retail company), all based in Brooklyn, where he resides.
Lee's first commercial film, 1986's independently produced She's Gotta Have It did surprising box-office business and earned him the Prix de Jeunesse Award at the Cannes Film Festival. School Daze, his second feature, was not only highly profitable, but it also helped launch the careers of several young black actors. But it was with Lee's third effort that he joined the ranks of top moviemakers. Do the Right Thing, which explored urban racial tensions, won him an Academy Award nomination for Best Original Screenplay and Best Film and Director awards from the Los Angeles Film Critics Association. Lee was nominated for a Best Director Oscar for 1992's Malcolm X. In 1998, his film 4 Little Girls, about the racially motivated bombing of a Birmingham, Alabama church in 1963, was nominated for a Best Documentary Feature Oscar.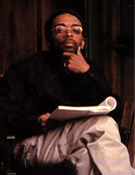 Lee has also taught at NYU and Harvard University, and has authored several books on the making of his films. The most recent, Best Seat In The House, was published by Crown. Lee has produced and directed music videos for such world-renowned artists as Miles Davis, Michael Jackson, Tracy Chapman, Branford Marsalis, Anita Baker, Arrested Development and Public Enemy, and directed numerous television commercials, including a series of renowned Nike Air Jordan ads. He has produced several short films for HBO, winning an Emmy Award for his piece on baseball's Albert Belle.
Critic Roger Ebert writes that Lee is an important and influential filmmaker "because his films address the central subject of race. He doesn't use sentimentality or political cliches, but shows how his characters live, and why... Every Lee film is an exercise in empathy. He is not interested in congratulating the black people in his audience, or condemning the white ones.
He puts human beings on the screen, and asks his audience to walk a little while in their shoes."
"25th Hour struck me as one of the best movies of 2002," wrote the Chicago Tribune's Michael Wilmington, opining, "it's a superb film, one of Lee's best. [It] shows Lee as a universal filmmaker with clear eyes and an open heart." Calling it "one of Lee's best films, on a level with his most disciplined efforts," Marshall Fine of Gannett News Service writes, "This film is thoughtful and exciting. It shifts tones casually and deceptively, building to a powerful finale. Spike Lee, a true original, gets a new slant on the American soul with this film."
One of Hollywood's most important and influential filmmakers, Spike Lee's work is technically original, politically inspired, and often controversial. Off screen, Lee is also no stranger to controversy. At events in Florida honoring the birthday of Dr. Martin Luther King Jr., Lee took issue with the film Barbershop, in which an African American character belittes Rosa Parks' refusal to move to the back of a bus in Montgomery, Alabama in 1955 and accuses Dr. King of living a promiscuous lifestyle. "To me, some things aren't funny," Lee said. "If our young children grow up thinking this, and that's all they know about
[Parks and King], then we're in trouble." A frequent critic of media messages, Lee told an audience at Yale University in March 2001, "I don't know what you can tell [young children] to watch to see African American scientists at work. The majority of African American males think they have to be a rapper, play ball or sell drugs. They have very limited options."
The Ubben Lecture Series has brought distinguished individuals to the DePauw University campus since 1986, including former British Prime Ministers Margaret Thatcher and John Major, former Israeli Prime Minister Shimon Peres, General Colin Powell, Ross Perot and, earlier this school year, Mike Krzyzewski, Harry Belafonte and ice cream entrepreneurs Ben & Jerry. To view a complete list of Ubben Lecturers, which includes links to video clips and news stories, click here.
Back