Make it Six in a Row -- 'Future Music Educator of the Year' is Again a DePauw Student
February 3, 2003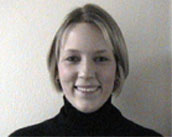 February 3, 2003, Greencastle, Ind. - Amanda L. Grahn, a DePauw University junior, has been named "Outstanding Future Music Educator of the Year" by the Indiana State Collegiate organization of the National Association for Music Education (MENC). The award, one of three presented at the state convention of the Indiana Music Educators Association (IMEA), recognizes the best and brightest in future music teachers. It marks the sixth year in a row that a DePauw University student has received this award.
"I think it's a testament to the people we have at DePauw," Mandy Grahn says of her award. "I'm surrounded with teachers and colleagues of the highest caliber, and their enthusiasm and knowledge make it so much easier for me to work hard at what I'm doing. I feel fortunate every day for the experiences I've had so far, and I'm so excited to carry that over into my music classroom someday. I hope that my students will feel that their lives have been enriched through music, which is exactly how I've always felt."
"This award is such a wonderful reflection and recognition of Mandy's hard work, dedication, and serious commitment to music education," says Amy Lynn Barber, dean of the DePauw University School of Music. "We are all very proud of her, and happy that she has kept the award in the 'DePauw family' for the sixth consecutive year."
Past award recipients include:
David Barbick, 2002
Tiffany Ingles, 2001
Matt Clifford, 2000
Nick Parcell, 1999
Danh Pham, 1998
DePauw's music education program has also been recognized as "CMENC Chapter of the Year" in 1999 and 2001.
Back