Phantom of the Opera's David Cryer '58 in 11th Year on the Road
February 4, 2003
February 4, 2003, Greencastle, Ind. - "David is just amazing," D.C. Anderson of the national touring company of Phantom of the Opera says of David Cryer, who's been on the road with Phantom since 1992 and is a 1958 graduate of DePauw University. "When he started this (tour), his youngest son was 6; now he's finishing high school." An article in Michigan's Lansing State Journal (the musical is in the midst of a four-week run at Lansing's Wharton Center) notes that Cryer, Monsieur Firmin in the show, "has a four-bedroom house back in New Jersey. He's raised six kids, most of whom went to big-money colleges. One who didn't (actor Jon Cryer) was busy becoming a movie and TV star." (photo by Seth Rossman)
"We use the phone an awful lot," David Cryer tells the newspaper of how he keeps in touch with his family while on the road. "We'll call three, four, five times a day." The paper points out that the show ends in one city on a Sunday and opens in another on a Wednesday. Cryer flies home on Mondays, then to the new town on Wednesdays.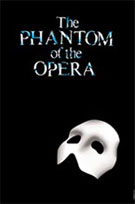 Writer Mike Hughes assesses that while many members of the Phantom cast must juggle to maintain personal lives while touring the nation, "Few lives... are as complex as Cryer's. After college, he was accepted to both Yale Divinity School and Harvard Law School. Still, he preferred the joy of doing shows at DePauw University in Greencastle, Indiana. The shows were written by fellow students Gretchen Kiger and Nancy Ford [both members of the Class of 1957]. He married Kiger and became a traveling actor. They had two children, including Jon." David Cryer had four more children from his second marriage, the newspaper states, and "the fourth heads to college this fall. Cryer plans to stay in the show to pay his tuition. 'If I ever write a book,' he said, 'it will be called Phantom Father.'"
You can read the article in its entirety at the State Journal's Web site by clicking here.
Back