Former DePauw Head Coach Royce Waltman Facing Tough Season at ISU
February 4, 2003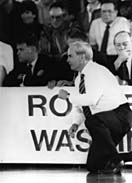 February 4, 2003, Greencastle, Ind. - Royce Waltman, head men's basketball coach at Indiana State University and former head men's coach at DePauw University (1987-1992), is going through a challenging time. ISU is 5-15, and was 6-22 last season. "It's never happened before to Waltman," notes the Indianapolis Star's Phillip B. Wilson. "The former University of Indianapolis and DePauw coach had to stomach only one losing season in 14 as a college head coach before 2001-02."
Just two years ago, Waltman's team upset Oklahoma in the opening round of the NCAA tournament. ISU's current 14-player roster is composed of 8 freshmen and sophomores, and the coach takes the blame for the recent malaise. "Poor recruiting. Poor development of players... I find many things to blame and many things to be critical of. But the truth of it is the real blame lies deep within me. It's the first time I've ever made my own mess after I had a program in good standing, so it's been tremendously hard on me.

But I've got to get past those feelings of disappointment and self-pity and be a leader of young men and try to get out of this."
The article includes a chart of Royce Waltman's career record, including the five seasons he coached at DePauw. You can access the story at the Star's Web site by clicking here.
Back