John Jewett '44 Named a 'Sagamore of the Wabash'
February 6, 2003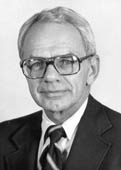 February 6, 2003, Greencastle, Ind. - John R. Jewett, an industrial/commercial real estate broker for Colliers Turley Martin Tucker (formerly F. C. Tucker Company Inc.) and a 1944 graduate of DePauw University, has been named a Sagamore of the Wabash, the highest award that can be granted by the Governor of Indiana. The award was presented January 30, 2003. Jewett was cited for his long history of civic and charitable activities, including his significant role in the planning and development of Market Square Arena, and the "Save the Pacers" campaign following their entry into the NBA in 1976.
In the early 1970's, the Pacers were playing their games at the State Fairgrounds Coliseum, on the northside of Indianapolis. When the team announced plans to seek a new home, John Jewett envisioned a new multi-purpose arena to be located in downtown Indianapolis. Jewett took his idea to his boss, Fred C. (Bud) Tucker, Jr. (DePauw 1940), who was actively engaged in downtown redevelopment. Those talks ultimately led to the construction of Market Square Arena, which, as
envisioned by Jewett, was suspended over Market Street and supported by two parking garages. The garages were owned by Market Square Associates, the entity assembled by the Tucker group. The Arena was owned by the City, and was leased to Market Square Associates. John Jewett not only conceived the Market Square project, but, as project manager, oversaw its construction and, upon completion in 1974, its operation by Market Square Associates.
Three years later, the financially-strapped Pacers were on the verge of moving to another city. The team announced that if season-ticket sales for the 1977-78 season didn't reach 8,000 by the end of July 1977, the franchise would be sold and, potentially, moved. John Jewett was president of Indiana Sports, Inc. and chairman of the Indiana Pacers. He became the prime mover in a "Save the Pacers" campaign, which included a now-infamous telethon that kept the team in Indianapolis,

where it continues as a strong NBA franchise to this day.
The Sagamore of the Wabash award was created during the term of Indiana Governor Ralph Gates who served from 1945 to 1949. The term "sagamore" was used by the American Indiana Tribes of the northeastern United States to describe a great man among the tribe to whom the true chief would look for wisdom and advice. The award is a personal tribute usually given to those who have rendered a distinguished service to the state or to the governor. Recipients have included astronauts, presidents, ambassadors, artists, musicians, politicians and ordinary citizens.
Back