Joe Ringger's "Monster Contributions" to DePauw Basketball Highlighted in Newspaper Article
February 7, 2003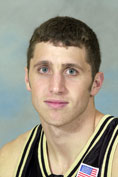 February 7, 2003, Greencastle, Ind. - "Did Division I schools blow it when it came to DePauw's Joe Ringger?," asks the Gary Post-Tribune's John Mutka in the opening of his column today. "At Chesterton [High School in Indiana], the 6-foot-6 forward was labeled a 'tweener' by many recruiters, before DePauw beat out Bethel and Taylor. Coach Bill Fenlon is eternally grateful for the benign big-time neglect, considering Ringger's monster contributions. The four-year anchorman is a two-time All-Southern Collegiate Conference selection and an All-American candidate," Mutka writes.
Noting that DePauw's men's team has won 10 of 11 games after opening the season 3-5, the newspaper says that Ringger could be a candidate to follow in the footsteps of 2002 DePauw graduate Joe Nixon and play overseas after college. Nixon is in the starting line-up for a professional basketball team in Bosnia.
Ringger was a solid player in high school, but is now putting up numbers (17.7 points and 9.9 rebounds per game with a .530 field goal percentage) that make him a candidate for All-American status.
"What transformed him at DePauw, where he bumped an incumbent starter his freshman year, was strength," Mutka writes. "Each year, he's tacked five pounds onto his frame with bombastic results." Coach Fenlon points out, "Being stronger has helped his explosiveness. He's also fearless. People bounce off him and he gets a lot of easy baskets." What's all the more impressive about Ringger's performance is he underwent arthroscopic knee surgery early in the season.
You can read the article in its entirety at the Post-Tribune's Web site by . Get the latest on the men's team, which leads the SCAC with a 13-6 record, here. Visit the women's basketball team's Web page by clicking here.
(photos by Marilyn E. Culler)
Back