Guest Soloist Velvet Brown Joins Percussion Plus Project for Feb. 18 & 19 Concerts
February 7, 2003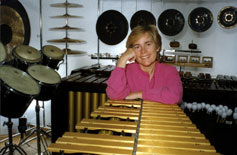 February 7, 2003, Greencastle, Ind. - The Percussion Plus Project, ensemble-in-residence in the DePauw University School of Music, will present a concert at DePauw on Tuesday, February 18, at 7:30 p.m. in Thompson Recital Hall and on Wednesday, February 19, at 7:30 p.m. at the Indiana Historical Society in Indianapolis. Both performances will feature the premiere of a new work for tuba and percussion by James Beckel, principal trombonist of the Indianapolis Symphony Orchestra and a member of the DePauw School of Music faculty.
Percussion Plus Project is a unique contemporary chamber music ensemble, which focuses on an unusual and exciting repertoire that is little-known to general audiences. Its programs consist of works for percussion (ranging from one to many players) and another solo instrument. No other ensemble devotes itself solely to this repertoire. Many of the works performed by Percussion Plus were composed especially for the group.
For this concert, the guest soloist will be the American tuba virtuosa Velvet Brown, who is on the faculty of Bowling Green State University, and is an internationally-known performer and teacher. This will be her first collaboration with Percussion Plus, and in addition to Beckel's Concerto for Tuba and Percussion, the ensemble will perform Jarmo Sermilä's Quasi come Quaesimodo, Latin Rhythms by William Schmidt, Kraftwerk by Daniel McCarthy, and Concerto for Tuba and Percussion Orchestra by Walter Hartley.
Amy Lynn Barber (seen at top of story), dean of the DePauw School of Music, is the artistic director of Percussion Plus Project, having founded the group in 1993 in Prague, Czech Republic. Percussion Plus had its own highly successful concert series for several years in Prague, and later in Ljubljana, Slovenia, where Barber was a member of the Slovenian Philharmonic. Most recently, it was based in Vienna, Austria.
James Beckel, adjunct professor of trombone and euphonium at DePauw, has been principal trombonist with the Indianapolis Symphony Orchestra since 1969. He has composed a number of works which have been performed by orchestras throughout the United States and Europe. His horn concerto, The Glass Bead Game, was nominated for a Pulitzer Prize in 1997, and Mr. Beckel was one of fifty composers selected nationwide by Continental Harmony to write a new work to celebrate the millennium.
The DePauw performance is free. Tickets for the concert in Indianapolis are $12 for general admission, $10 for Historical Society members, and $8 for students, and are available at the door. For more information call (765) 658-4380.
Back