"Bing" Davis '59 Speaks on Link Between Art and Cultural Understanding
February 8, 2003
February 8, 2003, Greencastle, Ind. - "I look at art as a way of developing understanding," Willis "Bing" Davis said as he spoke to the NAACP Freedom Fund Banquet in Oxford, Ohio. "The fine arts are powerful," added Davis, an artist, educator and 1959 graduate of DePauw University. Davis, whose work has been exhibited throughout the world and is included in the collections of many esteemed collectors, says, "I discovered art is more than just pretty things. The interaction (with art) taught me how to act with other people."
An article in the Oxford Press notes, "Davis is a Dayton artist, who graduated from DePauw University in 1959." The retired chair of the art department at Ohio's Central State University, where he taught for twenty years, "Bing" Davis began his career as a high school teacher, where he had an epiphany. "In 1966, I stopped teaching art and started teaching people. Art became a vehicle to understanding." He told the NAACP dinner, "We are our brother's keeper.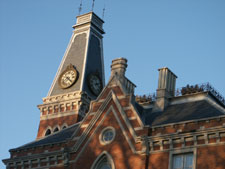 We are more than our brother's keeper. We are our brother."
You can read the newspaper article in its entirety by clicking here.
An earlier article, in which Davis describes how DePauw professor Richard Peeler inspired his art and teaching, can be accessed here.
Back