Egyptian Court Will Decide Former Professor's Fate Next Month
February 10, 2003
February 10, 2003, Greencastle, Ind. - Egypt's highest appeals court is expected to rule on March 18 whether human rights advocate and former DePauw University professor Saad Eddin Ibrahim is guilty of a variety of charges, including tarnishing Egypt's image. Two previous convictions have been overturned after complaints from human rights groups around the world, and even the White House, that the proceedings were politically motivated.
In an article in the February 10 edition of TIME magazine's European edition, Dr. Ibrahim says he "was humbled and heartened by the support I got worldwide" (noted, among others, by the London Review of Books; read more here). The professor, whose work at the Ibn Khaldun Center-- described by TIME as "a think tank dedicated to peace and democracy issues"-- led to his arrest, says he still has faith that democracy will come to his country. "I see positive change reluctantly coming. It may not be as dramatic as taking down the Berlin Wall, but I'd rather have steady, methodical change — gradual democratization. Democratic forces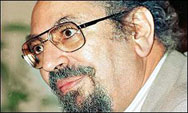 exist, but every time they've had a chance to express themselves fully, they were silenced because of external issues."
Today's Herald-Times of Bloomington, Indiana, notes, "The Egyptian-American professor at Cairo's American University has roots in Indiana. He taught at DePauw University in Greencastle from 1967 to 1974, where his future wife, Barbara [DePauw '71], was a student. She later earned a Ph.D. in sociology from Indiana University. Her mother, Elaine Lethem, also lives in Bloomington."
Barbara Ibrahim'ssister, Nancy Lethem '73, who also lives in Bloomington, tells the newspaper, "My mother and I communicate with my sister and brother-in-law regularly by e-mail, and we talk to them on the telephone about once a week." Lethem says Ibrahim continues to suffer from health problems, "walks with a cane because of a neurological disorder that prevents sufficient oxygen from reaching the deeper recesses of his brain," and suffered several strokes while imprisoned. "The last few months of freedom have seemed to do him quite a lot of good," Lethem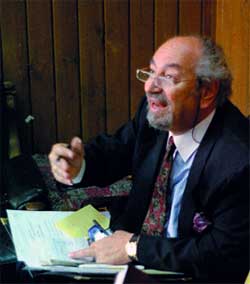 says, "but there's no doubt he has a deteriorating condition needing the attention of a specialist." While a doctor at Columbia University has stepped forward offering to treat Dr. Ibrahim in the USA, "he can't leave Egypt until his case is cleared up."
Nancy Lethem says she and her family are hopeful this third trial will result in a different outcome. "The first two were conducted in courts of emergency law. There has never been a fair hearing of his defense until now." According to the paper, Lethem says the "justices in the current trial have strong reputations for being independent and fair-minded, 'so we feel positive about the potential outcome.'"
You can read the story in its entirety by clicking here.
Back