Singer/Songwriter Ben Folds to Perform at DePauw April 11
February 10, 2003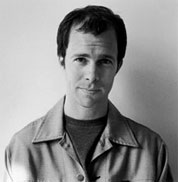 February 10, 2003, Greencastle, Ind. - Singer/songwriter/pianist Ben Folds will perform in concert at DePauw University Friday night, April 11, 2003. The show, one of a handful of dates Folds will play at select colleges during the month of April, will begin at 8 p.m. in Kresge Auditorium of the Performing Arts Center. Folds' Web site says, at the college concerts, he "intends to debut some new songs he's written for his next studio album." Tickets, which are $15 for premium seating and $10 for general admission, will go on sale to DePauw students February 22 and to the general public on March 3 (tickets sold out on that date).
The Washington Times asserts, "Mr. Folds is an often amazing live performer," while the Salt Lake Tribune dubs him, "the Slacker Generation's Cole Porter." After a concert last month, the New York Post's Dan Aquilante raved,
"As neatly as the magic of origami turns flat paper into a whimsical beast, Ben Folds weaves enchantment with two hands and a piano. Even a day after his Thursday gig at the Beacon Theatre, the performance remains vivid because of Folds' effervescent personality, his desire to please and the audience's desire to please him." Leslie Katz of the San Francisco Examiner agrees, "the guy is amazing live. His brainy, melodic songs sound better than they do on the recordings, thanks to his commanding stage presence, riotous personal storytelling, clever banter and virtuoso piano playing."
While the concert features Folds and his piano (previous tours have featured bands), Aquilante wrote it "isn't entirely fair to call it a solo concert.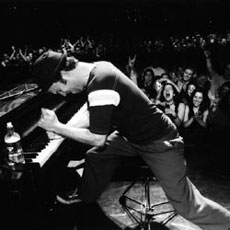 Even though the pianist is the only one on stage, he's not alone. When he performed the song Army, for instance, he twisted around on the piano stool and requested that half the people in the house be saxophones and the other half, trumpets -- and they were. What he and his fans achieved wasn't good -- it was great."
Ben Folds' latest recording, Ben Folds Live, features the performer and his piano, as well as some musical contributions from the audience. His previous effort, Rockin' the Suburbs, featured Folds on all instruments. Folds came to prominence in the mid-1990's as the leader of Ben Folds Five (which was, in fact, a trio), which released four albums including the million-selling Forever and Ever Amen, which included the smash hit Brick. He's featured on a number of movie soundtracks and shares the best compilation soundtrack Grammy nomination for I Am Sam, which features his cover of the Beatles' Golden Slumbers.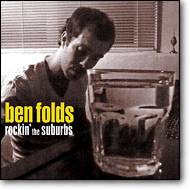 "In his new collection, Songbook, Nick Hornby devotes a chapter to the Ben Folds Five song Smoke," Seth Mnookin wrote last month on Newsweek.com. "Hornby calls it 'one of the wisest songs about the slow death of a relationship that I know' and goes on to say it's 'lyrically perfect … it's also one of the very few songs that's thoughtful about the process of love rather than the object or subject. It was a constant companion at the end of my marriage.' Ben Folds does that to people. He's the kind of artist who speaks passionately and bluntly about his pain (and his joys, and his obsessions, and his pet peeves), and he does it with a degree of maturity and artistry that makes his fans feel as though they've found the perfect musical expression for this or that emotion."
Folds will perform concerts in Australia in March before embarking upon his brief college tour (and stop at DePauw) in April. "Once he's done with the tour, Folds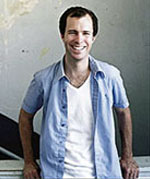 plans to return home to Nashville, where he's been putting together a recording studio," Isaac Guzman of Knight Ridder News Service writes. "With the freedom to experiment, he's considering a slightly new direction for his songs. 'One of my possible plans is to get the best drummer I've ever heard and the best upright-bass player and do a relatively jazzy kind of thing," he says. "And so far, the demos are coming out really well. I'm getting a real nice Miles Davis kind of sound.'"
Tickets for Ben Fold's April 11 concert will be available through the Campus Life office in the Memorial Student Union Building and via TicketMaster. You can visit Ben Folds' official Web site here. Access the Newsweek.com story by clicking here.
(top photo by Katrina Dickson)
Back