Dennis Bland '87 Among New Generation of Black Leaders, Star Notes
February 10, 2003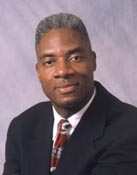 February 10, 2003, Greencastle, Ind. - "How many of you plan to go to college?" Dennis E. Bland, president of the Center for Leadership Development and a 1987 graduate of DePauw University, asks thirty high school students gathered around him in a story on the front page of today's Indianapolis Star. "All the students emphatically raise their hands in unison. 'Excellent.' Bland, and dozens like him, represent the new generation of black leadership in Indianapolis -- dedicated, behind-the-scenes types who generally eschew the title 'leader' but dislike the term 'black leader' even more."
The Star's John Fritze notes, "as the old guard has gotten older, and the needs of minority communities have evolved, the definition of black leadership also is changing. Today, it is as diverse as the black population itself." He writes that Dennis Bland "is putting something back into the community. Last year, about 1,000 high school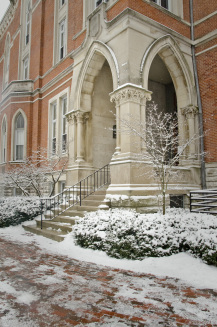 students took part in the center's programs, which covered study skills, communication, oral presentations, time management and job interviews."
The article, headlined "New generation filling black leadership roles," continues, "Bland is convinced those students will take on -- and redefine -- leadership roles in the future. He was reminded of his mission two years ago when Mayor Bart Peterson gave his State of the City speech at The Children's Museum. As the mayor spoke below, a classroom of Center for Leadership Development students was 'just kind of diligently going about their business,' Bland said. Peterson's voice and the occasional burst of applause boomed through the museum, but the students were not distracted by the excitement of the moment. Bland looked around the classroom and was struck. 'What they didn't realize

is that the state of the city was right here in this room.'"
You can access the complete story, which includes a color photo of Dennis Bland, at the newspaper's Web site by clicking here.
Back