Prof. Dave Berque Contributes to Undergraduate Research Journal
February 12, 2003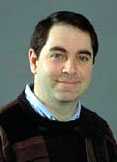 February 12, 2003, Greencastle, Ind. - The latest issue of the Council on Undergraduate Research Quarterly includes an article authored by Dave Berque, associate professor of computer science at DePauw University. Dr. Berque's contribution, "From REU to MRI: Capitalizing on the Strengths of an Existing Undergraduate Research Program to Strengthen an MRI Proposal," describes a Major Research Instrumentation proposal requesting National Science Foundation funds for the acquisition of equipment used to research multiple-machine interfaces. Professor of computer science Carl Singer served as a co-principal investigator on the request, which resulted in an NSF grant of $110,698.
In the MRI proposal, Berque noted that the purchase of "several 61-inch diagonal plasma displays with touch-sensitive overlays... pen-sensitive video tablets, handheld computers, and servers, "will allow us to significantly enhance the research environment that is available for our students. With the addition of this equipment, we will be able to strengthen our undergraduate research program by offering more cutting-edge research projects that challenge and motivate our students. This, in turn, will allow us to continue attracting the strongest and most diverse set of students possible to engage in research experiences," wrote Berque, the 1997 Carnegie Foundation for the Advancement of Teaching Outstanding Baccalaureate Colleges United States Professor of the Year, whose work with students on a unique electronic classroom (called "DEBBIE") has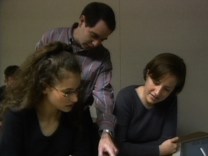 been featured on CNN and in the New York Times, the Wall Street Journal and Popular Science magazine.
The Council on Undergraduate Research Quarterly includes articles from across CUR's organizational disciplines in the natural and social sciences, mathematics, and engineering. Each journal includes a focus topic. Recent focus topics include: minority participation in undergraduate research, community research, students with special needs, institutional missions and undergraduate research, and scademic excellence. Regular departmental features include Undergraduate Research Highlights, Institutional Research Highlights, CUR National Office News, and letters from CUR's President, National Executive Officer and Quarterly Editor on current, research- and education-related issues.
Learn more by clicking here.
Back