Bust of Former VP Dan Quayle '69 Almost Ready for Display in US Capitol, But There's a Hitch
February 13, 2003
February 13, 2003, Greencastle, Ind. - "A life-size marble bust of former Vice President Dan Quayle will be displayed in the U.S. Capitol later this year, but it will be largely hidden from public view because of security measures," notes a story today by the Associated Press. Creation of the bust of Quayle, a 1969 graduate of DePauw University, was delayed by the deaths of two artists who were commissioned for the project. It was eventually finished by Daniel Sinclair, a stone carver from New York.
"The Senate Rules Committee... will decide when the head-and-shoulders sculpture joins the 43 other busts of vice presidents that line several rooms and halls of the Capitol. The Quayle bust will be directly opposite the man who preceded him in the vice president's office, the senior George Bush," the AP points out. But to see the white, Italian-marble bust, visitors to the Capitol will need a guided tour from a member of Congress. "Security measures ordered after the September 11 terrorist attacks made the corridor off-limits to the public unless visitors are accompanied by a House member or a senator."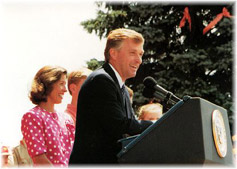 Dan Quayle served two terms each as a member of the U.S. House of Representatives and as a U.S. Senator before serving as vice president from 1989 until January 1993.
You can read the story in its entirety by clicking here.
Back