Prof. Marcia McKelligan Quoted in Philadelphia Daily News
February 14, 2003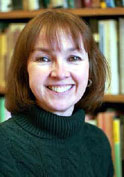 February 14, 2003, Greencastle, Ind. - "The moral situation is very uncertain," DePauw professor Marcia McKelligan tells the Philadelphia Daily News in a column published today that examines the mood of the nation as America stands at the brink of war. The dilemma, as described by writer Jill Porter, is that "While Saddam Hussein is indeed a 'brutal dictator' and all-around bad guy, a war will bring massive casualties without necessarily achieving the intended result. 'If the point of going to war is to reduce the risk of terrorism, I'm concerned that going to war will exacerbate the situation instead,' said McKelligan, chair of the philosophy department at DePauw University, in Indiana."
However, Porter adds, "like me, McKelligan is put off by anti-war rhetoric about American 'imperialism,' arguments that trivialize the conflict as being about oil or President Bush's effort to redeem his father. Some anti-war activists are pacifists whose one-size-fits-all philosophy is unpersuasive and unresponsive to the

specific threat of Saddam. Some other protesters are so dense that 'they would not think war justified until invading troops hit the New Jersey shoreline,' as one wag put it."
You can read the column in its entirety by clicking here.
Source: Philadelphia Daily News
Back