TV Commercial Work of Emily Ristine '98 Spotlighted by CBS Affiliate
February 17, 2003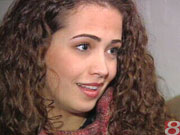 February 17, 2003, Greencastle, Ind. - "Emily Ristine would like to be recognized for her work on stage, but she seems to be getting more looks because of a Tire Barn commercial," Indianapolis CBS affiliate WISH-TV/Channel 8 said of the 1998 DePauw University graduate in a special report on actors featured in popular television commercials. "There were a lot of other girls there," Ristine told the station. "It just worked out that I got that job. I had no idea. You don't really know what commercial is going to look like. You just keep your fingers crossed. I think it turned out well."
Reporter Pam Elliot notes that "Ristine has been doing commercials for the last six years with the help of an agent. The DePauw graduate earned her actor's equity card in Disney and has appeared in most local theaters, including as the bride in Father of the Bride.
Ristine tells WISH, "I love Indianapolis. I love working here. So far I've been really fortunate to have a lot of opportunities in different kinds of [venues]. Next I'm doing Shakespeare. That's a far reach from the Tire Barn commercial. It's so funny because every city would say I'm their own. All of the commercials look local. All of our stores are very similar… so they call can you come to this parade. Literally I'm booked through March. I'm booking until June right now."
You can read an online synopsis of the television story by clicking here.
Source: WISH (CBS)/Indianapolis
Back