Retired Congressman Lee Hamilton '52 Opines on Costs of War with Iraq vs. Inaction
February 17, 2003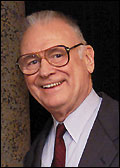 February 17, 2003, Greencastle, Ind. - "The United States has presented its case against Saddam Hussein to the American people and the international community," writes Lee H. Hamilton, a retired U.S. Congressman and member of President Bush's Homeland Security Council, in an op-ed column in today's Indianapolis Star. A 1952 graduate of DePauw University, Hamilton continues, "Barring a drastic turn of events, war in Iraq appears likely, even imminent. But while President Bush has made his case based on the potential costs of inaction in Iraq, he has not yet laid out the prospective costs and risks of action."
Stating that Saddam Hussein presents "a clear though not necessarily imminent threat to American national security," Hamilton says eliminating that threat carries with it a number of potential harms -- to the economy and the deficit, to America and its allies, even the people of Iraq. "A desperate Hussein could use a scorched-earth policy that includes attacks on Israel, the Kurds and other internal opposition. He could use
chemical and biological weapons to inflict severe casualties on civilians or U.S. troops. The Iraqi army may also be positioned in heavily populated areas, inviting civilian casualties from U.S. strikes. Americans have not been prepared for substantial U.S. casualties or civilian deaths in a war that may involve chemical and biological weaponry."
A veteran of 34 years in Congress and the former chair of the House Intelligence Committee, Hamilton believes "the long-term task of stabilizing and reconstructing Iraq will take more than the two years of U.S. involvement suggested by the Bush administration." In summary, Hamilton, now director of the Woodrow Wilson International Center for Scholars in Washington, D.C., writes,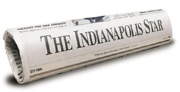 "The consequences of war can never be foreseen. All of us want a war in Iraq that is swift and bloodless, and the aftermath to go smoothly. Addressing these challenges is not an argument against war; it is a matter of preparing ourselves and our allies for the risks of war and its aftermath, while acknowledging the immensity of the task."
You can read the column in its entirety by clicking here.
Back