Contributions of Percy Julian '20 to Science and Black History Noted in Milwaukee Times
February 18, 2003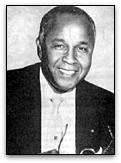 February 18, 2003, Greencastle, Ind. - "To honor Black History Month is to honor African-Americans who have made history. Dr. Percy Lavon Julian fits that description exceptionally well," writes the Milwaukee Times of Julian, one of the great scientists of the twentieth century and a 1920 graduate of DePauw University. The article continues, "Dr. Julian was one of the first African-Americans to be recognized by the National Academy of Sciences and one of a small handful of scientists (of any race) to be featured on a postage stamp. He graduated Phi Beta Kappa from DePauw University, got his masters at Harvard and a Ph.D. from the University of Vienna -- in addition to 19 honorary degrees and 18 academic and civic citations."
Later, the Times notes that Julian, who died in 1975 and whose name graces DePauw's science and mathematics center, "was innovative for his time. He often made use of natural ingredients such as soybean products He even was responsible for developing a fire retardant now used in fire extinguishers. Dr. Julian's work has yielded over 100 patents. After leaving Vienna, he returned to DePauw as a research associate. There, he collaborated with another scientist and carried out the first total synthesis of the naturally occurring drug, physostigmine, a treatment for glaucoma."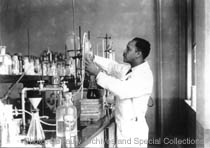 Rita Loskill, executive director of the Glaucoma Research Foundation, tells the weekly newspaper, "Dr. Julian was a hero. Even though he's been gone for over 25 years, his legacy is still alive and is in the forefront of our fight against glaucoma."
You can read the article in its entirety by clicking here.
A television crew from PBS's NOVA was on the DePauw campus last May to shoot interviews for an upcoming profile on Percy Julian. You can read more about that here.
Back