Richard Hellmich '77 Named Outstanding Research Scientist of 2002
February 21, 2003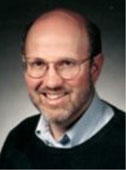 February 21, 2003, Greencastle, Ind. - Richard L. Hellmich II, a research entomologist with the U.S. Department of Agriculture, assistant professor of entomology at Iowa State University, and a 1977 graduate of DePauw University, was named "Outstanding Research Scientist of 2002, Midwest area" last week by the Agricultural Research Service. Dr. Hellmich was also a co-recipient of a 2002 USDA Secretary's Honor Award. "Both (awards) are great honors and the result of a lot of work," Hellmich tells the Daily News in Greensburg, Indiana, where he once lived.
Hellmich received the "Outstanding Research Scientist" award for his research involving the effects of Bt corn on insects. The paper notes, "Bt corn is specialized in that it's been genetically transformed to be resistant to the European corn borer." Dr. Hellmich earned the USDA award "for leading a consortium of scientists that investigated the effects of pollen on monarch butterflies."
The article states that Hellmich, a native of Cut Bank, Montana, "was raised in Greensburg, his parents' hometown. After graduating from Greensburg Community High School, he received a bachelor's degree in zoology from DePauw University and master's and doctorate degrees in entomology from Ohio State University."
Dr. Hellmich's past projects have included research on Africanized (killer) bees in Venezuela and Guatemala. He says as a child, "I always liked the outside things, like walking through the woods, and I could see that scientific work would allow me to be outside for a living." And he offers advice to those considering a career like his. "For any young kid interested in becoming a scientist, mathematics and writing are very important. In order to be a good scientist, you must first be an effective writer."
You can read the entire article at the Greensburg Daily News' website by clicking here.
Back