Three Faculty Members Awarded Grants for Research
February 25, 2003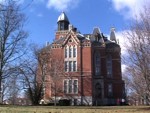 February 25, 2003, Greencastle, Ind. - Neal B. Abraham, vice president for academic affairs and dean of the faculty at DePauw University, has announced that three DePauw faculty members have received grants in support of research projects. The recipients are:
David Harvey, professor of chemistry, has received an award of $20,000 for "an introductory project-based laboratry curriculum emphasizing thermodynamics, equilibria, and kinetics" from the Camille and Henry Dreyfus Special Grant Program in the Chemical Sciences for 2003.
Matthew Hertenstein, assistant professor of psychology, has received an award of $5,000 from the Positive Psychology Network, through the Positive Psychology Young Scholars Grants Program, for a research project entitled "The communication of positive emotions via tactile stimulation." The award from PPN is supported by a grant from the John Templeton Foundation.
Assistant professor of chemistry Hilary Eppley has received an award of $35,000 for "Inorganic Reactions in Ionic Liquids: A Route to New Multinuclear Mixed-Metal Complexes" from the American Chemical Society, Petroleum Research Fund for 2003-2005.
Back