Annual PRISM Concert Set for Sunday Afternoon
February 25, 2003
February 25, 2003, Greencastle, Ind. - DePauw University's Kresge Auditorium will be transformed into a multi-stage performance space for the annual PRISM concert on Sunday, March 2, at 3 p.m. With special lighting and sets, this year's concert will be a theatrically-presented showcase of some of the best music and dance talent in the DePauw University School of Music, including several new ensembles.
Included in this year's the PRISM performances will be the University Band, Chamber Singers, Jazz Ensemble, Jazz Combo, Percussion Ensemble, Piano Trio, Woodwind Quintet, Brass Quintet, Opera Theater, Dance Studio, and a solo on the magnificent, newly-installed concert organ.
Founded in 1884, the DePauw School of Music is one of the oldest in the nation. Its musical ensembles and lessons are open to all University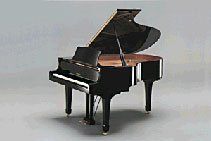 students. With over 125 concerts and master classes offered each year, and a wide range of ensemble opportunities, the PRISM concert represents the accomplishments of some of the best students participating in the School of Music's performance activities.
Admission is free, and the hour-long concert will be followed by a reception in the Kresge lobby. For more information about School of Music events, contact the concert manager via e-mail by clicking here.
Back